Cervix
What is the cervix and what is it responsible for?
BEFORE PREGNANCY
The cervix is located at the top of the vagina and is the lower part of the uterus. It is approximately one inch in length and is cylindrical in shape. During a menstrual cycle, the cervix will open slightly so that the blood can come out. After a woman ovulates, the cervix will descend into the vagina and it will feel firm. The cervix is typically pink or reddish in color.
DURING PREGNANCY
Once conception has occurred, the cervix rises upwards and will become softer than usual. The cervix will remain tightly closed to prevent infection. There will be a mucus plug covering the bottom of the cervix that acts as a barrier to prevent infection as well. The color of the cervix will change during pregnancy. It will go from a pink or reddish color to bluish or purple-looking.
LABOR
During labor, the cervix will change to get ready for childbirth. During pregnancy the cervix is thick and 0% effaced. The cervix will begin to efface, or thin out and shorten. Your doctor will speak of effacement in terms of percentages. When you are 100% effaced, your cervix is completely thin and ready for childbirth. The cervix will also dilate, or open. Your doctor will speak of dilation in terms of centimeters. Once you are 10 cm dilated, your cervix is completed dilated and ready for childbirth.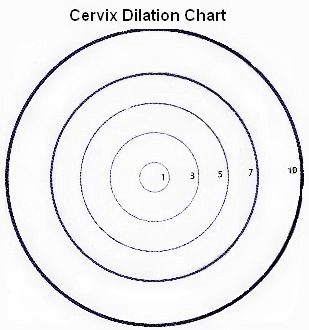 AFTER BIRTH
After childbirth the cervix does not look like it did before pregnancy. The cervix will remain dilated to 2 or 3 cm for approximately 3 days after delivery. If you were to have an internal examination at one week postpartum, the cervix would look very similar to the cervix before pregnancy. During the first four to six weeks after delivery, the cervix will begin to heal but it will not be completely healed until about 12 weeks postpartum. It is important to give your cervix and uterus time to properly heal before conceiving another child.
Comments: Cervix
Comments
1
to
24
of about
26
.
1
Next
abriltigresa@gmail.com
- 155 days ago.
When I found Dr.Agumba I was in desperate need of bringing my ex lover back. He left me for another woman and I was left in the dark. It happened so fast and I had no say in the situation at all. He just dumped me after 3 years with no explanation. I contact Dr.Agumba through his website and he cast a love spell to help us get back together. Shortly after he did his spell, my boyfriend started testing me again and felt horrible for what he just put me through. He said that I was the most important person in his life and he knows that now. I highly recommends Dr.Agumba anyone in need of help.Email:email:dragumbaspelltemple@yahoo.com or call him on +2348143391398 i am resa from Australia.
abriltigresa@gmail.com
- 155 days ago.
When I found Dr.Agumba I was in desperate need of bringing my ex lover back. He left me for another woman and I was left in the dark. It happened so fast and I had no say in the situation at all. He just dumped me after 3 years with no explanation. I contact Dr.Agumba through his website and he cast a love spell to help us get back together. Shortly after he did his spell, my boyfriend started testing me again and felt horrible for what he just put me through. He said that I was the most important person in his life and he knows that now. I highly recommends Dr.Agumba anyone in need of help.Email:email:dragumbaspelltemple@yahoo.com or call him on +2348143391398 i am resa from Australia.
healthguide622@gmail.com
- 316 days ago.
During the beginning of a cycle, your cervix — that neck-like passage between your vagina and uterus that has to stretch during birth to accommodate your baby's head — is low, hard, and closed. But as ovulation approaches, it pulls back up, softens a bit, and opens just a little, to let the sperm through on their way to their target. Some women can easily feel these changes, while others have a tougher time. Check your cervix daily, using one or two fingers, and keep a chart of your observations. The other cervical sign you can watch for is the appearance, increase in quantity, and change in consistency of cervical mucus. Anyway, if you are trying to get pregnant, there's a lot of things that you can do to improve your chances of conceiving. I've bought the 'Getting Pregnant Plan' by Michelle Adams e-book from http://aboutgettingpregnant.com, it has a lot of information about how to boost your chances of conceiving, pinpoint your ovulation accurately, improve your fertility and pregnancy.
dayshiani
- 1164 days ago.
Hi lady's and congrats to all the moms I'm 10 weeks today I having reading a lot of your comments about your cervix I'm on my way with my fifth child I have been high risk for my baby since my second child my cervix is not strong so I tend to open up to soon I have had to pre term baby but two full term baby as well the high risk doctors are great I start my shots at 16 weeks and bed rest and pelivic rest as well but all my baby were great and doing great so just have faith all will work out in the end
precious03
- 1675 days ago.
I read thru the previous comments that was posted. Unfortunately I see that they were posted some time ago. I hope that if anyone finds themselves going thru what my family and I are going thru that they too will find this section and find it helpful. I just turned 20 weeks today. The pregnancy has been going by quickly until it was found that my Cervix is shortening and thru our family into a whirlwind of fear and concern. Our beautiful unborn daughter is growing perfectly and what a relief that is but her life could be compromised if my body decides that it cannot carry her to a safe point that she can survive on her own. I have spoke to two High risk Drs and also my reg OB and told a variety of things. After going thru all this over and over with the family, we have decided to rely on common sense and intuition out of all we have heard. I know that no matter what anyone says, what will be is what will be but for all our sanity it is just the best way to handle this delicate situation. Who would have thought that we would ever have to deal with something like this? If life was only perfect hah?!!! I have now been doing the daily progesterone applications for two days. I have noticed that my cramping has increased along with BMs. Possible side effects of the medicine and also signs that I was instructed to look out for. This is not helping the situation however perhaps and hopefully this is an indication that the medicine is working already. My goal is to make it to at least 32 wks gestation. I know this is a long road ahead and each moment that goes by is a miracle itself. We can only hope for the best. If you find yourself in this situation, I hope the best for you and your family too. In any situation that may arise it is important that we don't blame ourselves for these things. If we lived in a perfect world things would be different but that is just not the way it is.
candycane123
- 1902 days ago.
So I just had my level two ultrasound this week. I was 19 weeks when i got it done and they said that everything looked good and normal. However, I noticed on the paper they gave me that the cervical length was 3.3cm. When I researched this on the internet it says the average or normal is 4cm and above. Im very confused as they told me mine was normal. Any thoughts?
havingtwins
- 1979 days ago.
I have a question. I'm 34 weeks, and I've been dialated to 4 cm since 8/31 when my doctor checked me. I've been on Nifedipine for about a week now. The doctor is taking me off of it tomorrow. (Friday 9/10) I've heard that the cervix can close back up. I was wondering if it still can if your 4cm? My doctor doesn't think so, but she wants to check to make sure. I've still been having lots of pressure and regular and irregular contractions.
ITZmeASH
- 2066 days ago.
Hey ladies! I had my 20 week ultrasound on Friday and everything looked great! Baby is growing properly and she is doing really well. They are concerned with what they saw in my cervical length. Mine was measuring at 2.5cm (25mm) on Friday (19w5d). I now have to go back on this coming Friday to have another ultrasound done to see if the cervix is continuing to shorten. If so, he said look forward to bedrest. Anyone else going through this?? Has this happened to anyone in past pregnancies?
Ms.BetterThanTheRegular
- 2137 days ago.
I'm 28 almost 29 weeks with my second. I'm having a bit of problems with contractions, etc. I went to L&D yesterday and they told me I was a finger tip dilated on the 'outside' of my cervix, but NOT the 'inside?' I'm a little confused on this... I thought if you were dilated, you were dilated...not on the inside or outside... Has anyone else ever been told this? Can someone please explain this...?
nervousmothrof3
- 2168 days ago.
Hi Every1 Im very nervous and My Dr just gave me an exam and he said my cervix is opened and he put me on Strict bedrest Im 26 weeks 4days.... Im only aloud up 15 minutes out of every hour........ Im VERY nervous,I have to go back Friday to see if there is any change...... He didnt say I was dilated he just said I was opened and he could fit a finger in there! Any comments would be appreciated!! God Bless to all,Jacquie
theresaangel
- 2183 days ago.
My cervix looked ok at my appointment. It was not exactly as my doctor would have hoped, but she did not see it necessary to put me on bedrest. I will continue to be monitored. She did however put me on walking and lifting restrictions.
CarlyeeMarie~VIP
- 2195 days ago.
Hey i get checked bi weekly for my cervix.. i am on complete bedrest! and it does work wonders .. my first visit my cervix was 1.9 (20wks) no funneling... they sent me to another DR hi risk Maternal Fetal medicine practice... a week later and i got shorter 1.5 (21wks) with funneling.. i was blown out my mind... because i couldnt get a cerclage or nothing... and was told that im hi risk for preterm labor.. but i went to the dr just on the 3rd.. and my cervix grew back to a normal range2.8 (23wk) and no funneling.. so lay n the bed as much as possible if your not on bedrest yet
theresaangel
- 2196 days ago.
I am 19 weeks, 6 days along and I go for an ultrasound tomorrow. My doctor said that she is concerned my cervix may be funneling. I am REALLY freaked out. Has anyone ever experienced anything like this?
Dree2010
- 2201 days ago.
Does anyone know what it means to have a soft cervix at 25 weeks pregnant?
debmomof2
- 2221 days ago.
nnr- i had the same thing for my entire pregnancy ! My cyst was the size of a grapefruit and it seemed to go away and come back for the entire pregnancy with my daughter. The doctor watched it and i had more u/s because of it but i never minded i got to look at the baby while they were messing with the girl parts lol I had a normal healthy pregnancy and delivered a 8 pound 4 ounce baby girl. Hun you are pregnant and you will have alot more to worry about but don't just relax and go with the flow. being worried and stressing out wont help anything. So just smile and love that baby thats growing inside you :)
nnr0802
- 2221 days ago.
Hi, I am new to this website but I was hoping to get advice and support here. My husband is in the army and we are based far from friends and family so I need so assistance. I went to the ER last week for a number of reasons and anyway they ended up doing an u/s and found out that I am 6 weeks and 5 days (now) but I have a cyst in my cervix. The ER doctor made it sound like it was going to abort my baby for sure but I have heard some stories of perfectly healthy babies after the same thing...... Any response or advice to my worrying?
readyforbaby
- 2254 days ago.
Before I got pregnant with my daugher and after I had her I had a tilted cervix and Im pregnant again and my cervix was still tilted I think during my pregnancys is the only time it is straight but it has never caused me any problems other then having to have painful pap smears due to them trying to get to my cervix. So I think you should be fine unless your dr says something.
luvababe
- 2367 days ago.
ok ot to sound nasty or anything...i went to bathroom cuzz im cramping and thought AF is here..so i washed and dried my hands and checked my cp...and cm...it is wayyy up here cant feel it and wet...sry tmi....i kw u cant go by that..but any thoughts!!!
clareroyal
- 2397 days ago.
I am new to this part, but from ttc a few years ago I got to learn about my cervix, now obviously the doc thinks that I am pregnant, but I am checking my cervix and I can feel like little spots by the opening. I know for me this is not normal but can anyone shed some light on what it could be,
yorkie puggle
- 2458 days ago.
Does anyone know if you can use pre-seed (cervical mucus aid) if the expiration date is expired? I have a few tubes from 2 years ago that are still unopened in the box and stored in a cool dry place. Could I use it today? The expiration is like 7 or 8 months over! Thanks for the help : ) Dana
DiandClover
- 2558 days ago.
Does anyone happen to know how long after conception occurs can you expect to see a change in your cervix?
phoebe1973
- 2604 days ago.
Boneybum, thanks! I thought I was weird or something...mine is kinda hard, too! knowing other women experience that makes me feel less like a freak...
Tejay2
- 2633 days ago.
Hi im 18 wks pregnant with my second...iv been feeling a bit of pressure down low an when i did a gentle workout on my crosstrainer i felt sharp kinda pulling in the cervix...just out of interest an because i felt like the baby was so low i had a wee check down there an was suprised to feel my cervix is right there an soft, like i didnt even hav to reach for it its just there, in my last pregnancy wen my midwife checked me late in pregnancy it was always right around the back..is this normal for it to be right there? i have a check up in a few days but ws a bit concerned.
JeniWalker
- 2635 days ago.
I was wondering if any of you had a pap smear at your first appointment that came back with abnormal cells? My Dr said that my pap smear came back showing that i had mild cervical dysplasia and need to have a folow up Colposcopy. I actually had the same thing done in April for the same reason and they usually take a biopsy of the cervix and this causes cramping and spotting. Im quite concerned because I dont want to end up having this cause me to have a miscarriage. This is also the same Dr which recommended i get a flu shot at my 8 weeks appt, which i later find out shouldnt be done in the first trimester. please leave a message on my profile!
Y-did-I-do-this-again
- 2643 days ago.
soontobemommy, I hate to disapoint you, but with my second I was at 3cm and 70 to 80% effaced for SIX WEEKS before the doctors finaly broke my water and started labor. The good news is that, these days, most docs won't let you go as long as I did before inducing. Good Luck!