Write a new blog
---
08-7-2010 - *first trimester*
My mood while writing this blog:
Ok
---
July 8th 2010 :
4 week's 2 days pregnant :) I feel pregnant! Nauses, tired, light headed & hungry.. Today i feel very bloated!!!
My first Prental appoinment is not until July 26th! feels forever away..it's okay though hopfuly time will go by pretty fast even though i know it won't.
Craving Mustard with almost everything. pizza, pototas.. thats it so far. so not everything but good enough haha. I am already starting my belly pictures <3 No bump yet but its a start.
However June 1st & june 18th? I weight 136. Now I weight 140!!! wow. How did i gain so much weight already?
July 9th, 2010
-
Just a quick update. My new Doctors appoinment is July 16th! :) I think it's retarded to have to wait 3 weeks to confirm my pregnancy. so I made another apoinment else where. I am still keeping my July 26th appoinment just in case I don't like this doctor. I am very excited to see a doctor next week!!! ;)
And Boy i can tell i am pregnant.they say you don't start peeing alot until your 6-8weeks. Bull shit lol I pee every 45 minutes and actually pissing out alot lol. I cannot wait til my first OB visit though.
also i am so light headed. i drink plenty of water 2-4bottles a day plus powerade and non-caffiene drinks. i try and eat whatever i can without getting nauses but im always so hungry <3 the joy of being pregnant. i love
it
July 12th
5 week's today. I changed My due date because I beleive I ovulated on the 20th-21st so My due date should be March 14th, 2011 :) Sunday i got so nause after eating burger king.. i threw it all up!! that was so gross!!! lol. but i am excited that My doctors appoinment is Friay! so i'll be 5weeks 4 days.. just hoping i can get an ultrasound around 7/8 weeks. so far still weighting 140. :) so no more weight gain yet.. and what i love is the pregnancy test lines get dark and darker <3 the pregnant line is so much darker than the control line now <3 i love it!!!!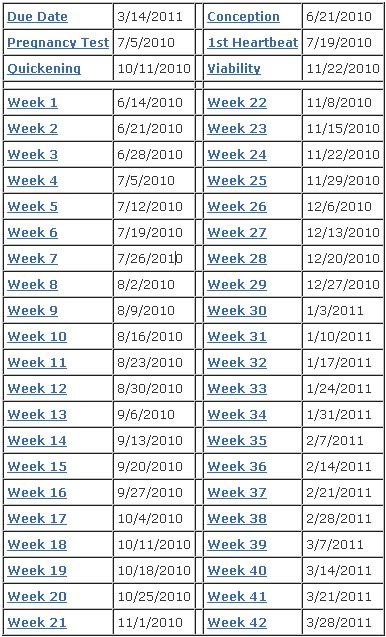 July 13th, 2010
I am so shocked today. I jumped on the scale today, said i weight 141! i am gaining so much weight already!!! i don't understand how i went from 134 on June 18th to 141 on July 13th.
On the bright side I feel very pregnant. tired hungry using the bathroom all the time. i am soo bloated i feel fat. on the bright side My pregnancy test are getting darker :) yay. So glad i feel pregnant :)

July 16th, 2010Had My first OB appointment today. everything went
really well. Got a pap done and examed.. i think i like this Ob office.. everybody seemed friendly and nice. However I won't get to see my little baby Until August 13th.. But that's okay I rather get a really good picture of the baby anyways :) i'll be 9 weeks 4 days at my new appointment so i am very excited :) at the Ob Office There scale said i weight 140. so guess my scale was a little off. but everything seems to be going really well so far :)
Just thought i'd update everything.. havnt gotten sick since last sunday still kinda nauses and really really tired and always hungry.. and get lots of dizzy spells... wow. anyways have a wonderful weekend ladies :)

July 30th, 2010

Well almost 8 weeks :) yuup only a few more days and i am headin to week 8 ;) so far the morning sickness has kicked in full force. always nauses day and night, always peeing. wanting to sleep all day & night. its like i never get enough sleep... Its really ROUGH. but i cant wait til see my little bean on August 9th!!!! :)


well just a quick update on week 7..
August 1st


Wow, My first ultrasound is On Augst 9th, 2010 :) at 9:30am That is only 8 days away!

I got on the scale today. I weight 136. Ive lost 4lbs. crazy!! but my stomach isnt as bloated anymore so i was obvoiuly carrying alot of water weight..

It sucks being nauses all the time and always hungry and not being able to eat.. but as long as my Little bean is doing well :)


My Boob's have been getting bigger. Cup size was a A 34 and my bras were getting on my nervs.. bought a new bra 34 B and it feels great! my boobs dont itch and hurt as bad.

but today is the County fair so were heading out there today! :)
---
7 Comments on *first trimester*hotpotaaaaato
- Saturday, 17 Jul
dang girl, that sounds just like me!! I eat soooo much it's almost STUPID! It's like I feel sick if I DONT eat. I hate it, and the pounds are already coming on, which sucks because I am a bit overweight to begin with. grrrrrrrrrrrr.... the sleepless nights, peeing constantly, and sooo tired during the day. I think stress is playing a huge factor for me right now as my first appt in on Monday and so far in 2010 I've had 2 miscarriages. eeeekkk! Here's hoping we both survive! I can't believe your kids birthdays are going to be RIGHT on top of each other.... silly girl
SuperHeroMom
- Saturday, 17 Jul
Glad that things went well! Congrats and good luck!
MariamsMommy
- Friday, 9 Jul
I am so happy for you!
mfbrown
- Friday, 9 Jul
Good luck and keep us updated! :0)
sladesmom
- Friday, 9 Jul
Congrats!!! I agree with you, it is crazy that the Dr makes you wait that long!! When I called the soonest I could get in is Aug 12, I do have a US on Aug 5th but that was already scheduled!
baby[bump]mama
- Thursday, 8 Jul
youre looking good! Im sure the weight is mainly bloat weight....ahhh so excited for you!!!
B3thy
- Thursday, 8 Jul
yeay! congrats again :) hoping I get my BFP too! waiting to see if Af arrives...ug :)