Write a new blog
---
16-11-2010 - 23 weeks
My mood while writing this blog:
Ok
---
wow, I'm already 23 weeks, where is the time going??
this pregnancy is Going way to fast!!! hard to beleive my little boy will be here in Just 4 months.
I think I'm starting to feel him Move? I just don't know. I'm concerned why i really havnt felt him. If i feel something its because I'm poking at him lol. but sometimes i think i feel him while i sleep but when i wake and try and poke at him he dosent kick or move like i thought i felt.. so i just dont know.

My doctor's appoinment is Tomorrow at 10am. Hopfully the doctor will give me some answers.. because This is driving me crazy.

Hopfully I'll get my 3/d ultrasound scheduled soon. i am planning on it for december.

were back to having car problems again.. why why why. we have a cracked Raditor..its at the top so its not as bad but it just means lots of coolenet and water...UGHH. Power steering is starting to go back out. but were just trying to make this car last until January/Febuary when we get Our taxes back.

were so close to moving in our House. water is Turned on, BUT we had to turn it off at the street OURselves LOL....because theres a leak under the bathtub.. but its getting fixed. everything else is Good.

soon as the water is fixed were getting the eletric inspected so we can move in so we can get our christmas tree set up lmao. I am so worried about christmas and getting us moved in well its coming close to actually happening..

well thats all for my update. besides i feel like crap and really tired.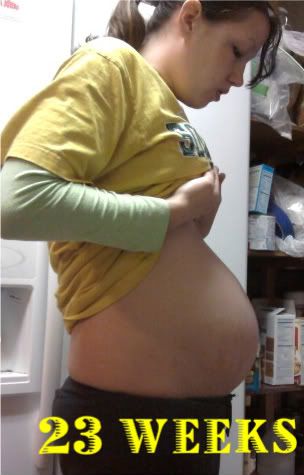 ---
6 Comments on 23 weeks brianna-x0
- Friday, 19 Nov
Your belly is adorable! Don't worry about movement, you may just not notice some of them. I still haven't really felt much movement, I had an u/s last night and my little girl was all over the place, I couldn't believe I couldn't feel her with the way she was moving.
MarySto
- Tuesday, 16 Nov
Maybe he's just really comfortable in there and does'nt want to move.. Looking great!
**jennifer**
- Tuesday, 16 Nov
I didnt feel much movement until about 24 weeks so hopefully you will feel him soon.
pinkmama
- Tuesday, 16 Nov
when i was pregnant with charlie i felt him move for the first time when i was 16 weeks.. and with wyatt... nothing at all until i was 22 weeks because my placenta was in the front and was cushioning all the movement. with this pregnancy, i didnt feel anything until i was 24 weeks... it worried me every single day, my placenta is also infront again this time too.. you'll feel him soon, and then, once you do- he wont stop!!! =o)
lovebugs3
- Tuesday, 16 Nov
Your bump is all boy and I hope your car gets fixed and everything goes well.
baby[bump]mama
- Tuesday, 16 Nov
well first off you look great! hopefully your doc can help you out with why your not feeling him move. and i know what you are going thru about the whole christmas thing. our christmas is gonna be small especailly with a new baby and possibly buying a house this year. but im sure everything will work out for the both of us.