Write a new blog
---
21-10-2008 - I think we reached new footing....
My mood while writing this blog:
Swollen faced from crying
---
Ok so Jay and I had it out last night, and I mean ALL out!!! We laid it all out on the table and opened a HUGE can of worms. Now we see each other with clear eyes for the first time in over a year!!!
Jay and I have been together for 13 years and are at the point in our marriage that we need to maintain it. But neither of us have a clue on how to do that, I mean my longest relationship before him was like 9 months and his was 2 years!!! We have both changed a lot in the last year, and that doesn't help the situation much either. He has developed new hobbies and interests and I have cultivated a home business and lots of new friends.
Our marital issues started before I got pregnant and now we have to compound all the problems with me being an emotional wreak and Gemini all in one. I am at the point of giving up and just letting it all slide away and not deal with any conflict anymore. I can not fight, argue, bicker or cry anymore!!! It is literally making me ill...and I refuse to live this way. I can not leave work because I can not stop crying, I can not ditch out on friends or parties because I feel like everything is falling apart! I am DONE!
We talked for two hours, I cried for most of it, and he finally told me that when he went out last week it was just to hurt me and to "get back" at me…. HOLY SHIT… WHAT??? That was extremely painful to hear, but now I understand a lot more of what he is feeling and his inadequacy to deal with the problems too. He cried when he told me that he purposefully hurt me, just to be mean and feels like an asshole. Well, I totally agreed with that statement and did nothing to correct him on that!! But I also forgave him, because we all do things to strike back when we're hurt, it's a natural defensive mechanism. It's hard to look at all of the issues again this morning, but if I want to save my marriage, then I HAVE to.
I brought up marriage counseling and he is ok with the idea, but financially we can't afford it. So I am on a mission to find someone that is reasonably priced and good, because I don't care if I have to go bankrupt!!! I am NOT losing my husband because of a few dollars we couldn't afford to spend. And in the end, isn't it a great investment in our future? Isn't it something that will make us better parents and show our daughter that anything worth saving is worth fighting for?!! We just need someone who is on the outside, someone who's not involved, to get us over this hump. And teach us how to maintain and how to communicate effectively!
So, after all that was said and done, we lay together in bed and just held on for dear life!!! We have only made love once since I found out I was pregnant, and I know that was his way of pushing me away from his issues he's having, but I also explained to him how detrimental it is to me being that I am gaining weight and not feeling like myself anymore. I feel completely self conscious and fat and unattractive, especially standing nex to some of his friends girlfriends. I feel like the fat dumpy wife ya know….and I am fucking jealous!!! Which he didn't understand till last night, as humiliating as it is to admit it…I did and hope like hell it was worth it!!
We had a FANTASTIC love life, and are very open in talking about it...but it's been a sore subject with him, and now I know why. But last night was a turning point and we made love like we we're starving for food. It wasn't one of those quick times, it was a loving and emotion packed time! Afterward he tells me" I know you need to hear this and I am very sorry I haven't said it....you are wanted!" OMG, i started crying all over again! I seriously was laying there buck naked crying my eyes out all over again!! Sheesh!!! The man just has a way of hitting the tears button!! But he was right; I did need to know he still wanted me and that it wasn't just a pity thing or a way to get me off his back.
All in all I'd say we made more progress last night that we have in over a year. We made each other "talk" for the first time in a long time!! Thank GOD!! Enough of my ramblings, I just needed to get this off my chest, and am open for any comments or ideas that might help bring us back together.
Thanks ladies, big hugz all around!!
~~Candy
---
7 Comments on I think we reached new footing....Carolinagirls
- Tuesday, 21 Oct
Hey I call my hubby Jay too...and I'm a Gemini!!! WOW!!! We're like 2 peas in a pod :)
I already wrote a book on your comments page so I'm going to keep this short......you're doin the right thing, and the best you can do. Just put your heart out there...... And if you have to drag his ass to marriage counseling then so be it. Oh by the way...not sure if you have read my comment yet but I brought up counseling when my Jay and I had it out at our "10 week" fight.....then I realized I couldn't afford it either....I'm almost sure we'll end up there one day. Somethimes you need a second opinion...or the opinion of a bunch of pregnant girls haha!!!!
RR2007
- Tuesday, 21 Oct
Good for you!! Marriage is hard work. Many people dont seem to realize that. Every couple has thier ups and downs and you can get thru it. One thing I learned was patience and "learn to fight fair". Sounds stupid but it has saved us from some ugly fights. I know many are suffering financially right now. . . but you can try you're church if you have one. I know my cousin went through counseling thru thier pastor and it helped ALOT!!! Oh and dont worry about what other woman look like, you're body is carrying a child and thats an amazing thing!! Anyway hang in there, look forward to this weekend! :0)
no2intheoven
- Tuesday, 21 Oct
Hang in there. It is good that the lines of communication are still there because this is a crucial time for the both of you and you don't need to added stress. Stay positive and like you did continue to allow him to express how he's feeling. A lot of men feel like they are pushed to the back burner when we're pregnant and sometimes do things to get some attention but a lot of times they end up hurting us. Don't give up!!! Def find out about counceling...a lot of guys won't do it so take the opportunity and run! :D
pregalishus
- Tuesday, 21 Oct
Oh wow... thank you so much, Candy, for sharing that. I know that I havn't been your "friend" for long, but hang in there Sweetheart.
I have an amazing relationship and have still been crying uncontrollably for a couple weeks now. Hormones? I think so. I know, we hate to hear that, but think about it. Men don't understand! Mine sometimes says that he thought I was just crazy until someone else verified what I was going through (not wanting to eat his cooking, or bursting into tears in the middle of a football game at a freakin bar...wtf???). So your DH is taking all the madness personally maybe. Counceling, GREAT idea! Look for therapists that charge on a sliding scale. I can't help in your area, but in my are, the sliding scale rate starts at $5 per session! Does your DH work for a company that offers EAP? Find out! Then you can see a therapist free for six sessions! Get more info, don't give up! My first husband and I gave up after all the drama, but became friends later in life. Only you know what's best for you, but don't make decisions that will change your life until six months after you give birth. I know it's hard honey, but if it were easy, everyone would do it. And just think how much you will love and appreciate each other if you can, in fact, make it through this!
i-am-finally-preggo
- Tuesday, 21 Oct
yeah, they do that "get back at you" sh!t. it is pitiful. my husband's done that to me tons of times. yes he is an asshole, yes you were right not to correct him.
first of all, stop feeling dumpy. you are with child, your body is doing something amazing and precious right now, and it is far more beautiful and wonderful than some size 0 toothpick bitch. that is in your head.
now, I totally understand not wanting to make love...I haven't really wanted to do it much either. I just don't want to...maybe it's the hormones or whatever...but whatever the reason, you feeling dumpy shouldn't be one of them.
I think you guys just need to make love. Even if you don't feel like it, just take one for the team, so to speak. :D Making love has a strange way of making things better.
I would do the counseling thing, but to me it sounds like you guys are pretty effectively communicating without the therapist. considering that you can only control your own emotions and reactions, all I can say is that you make sure to keep an open mind about what he says. the "getting back at you" thing is hurtful, but it's not atypical of so many, many men. it's not cool that he did that, but it is cool that he's willing to admit it and say he's sorry. you know what I mean? just take into consideration the fact that it's a big step for a man to be introspective, to acknowledge his bad behavior, to humble himself and ask for forgiveness. and even though you give him forgiveness, it doesn't excuse his behavior...it just paves the road to making amends.
this marriage stuff is hard work, babe. :D
take care and have a great day...you guys are doing great!
jterrill08
- Tuesday, 21 Oct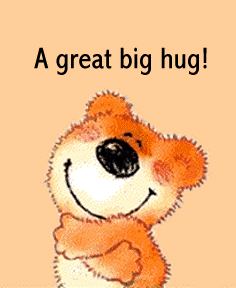 glitter-graphics.com
jterrill08
- Tuesday, 21 Oct
I'm so glad you guys are thinking about getting marriage counselling. I mean, I work for an attorney and I know how much divorces can be in the long run. Financially and emotionally... You don't want to go there. Spend the money now to get help, because you don't want to lose it later to an attorney who is just there to decide who gets what in a depressing settlement. My heart goes out to you both. I think you can get through this. Its obvious to me that you both love each other very much. Its just all about communication. You need to go out more together then apart. Reintroduce each other to the people that you have become. And never lose hope. Marriage is worth the fight.