Write a new blog
---
16-2-2011 - Bleeding
My mood while writing this blog:
nervous
---
Saturday evening I was visiting at my parents' house, I went to use the restroom and when I wiped, there was bright red blood. I freaked! I've never bled with any of my pregnancies like this. I called my doctor and they had me speak to the on-call doctor who asked me some questions like, have I had intercourse in the last 24 hrs, is it heavy enough to soak a pad in an hour, any cramping. Well, I had intercourse almost exactly 24hrs before and it wasn't heavy enough to even leave blood on my underwear and, I wasn't cramping. Still, I was scared. I am 8 weeks pregnant and this is my crucial time where I usually miscarry. The bleeding stopped after a couple hours but then next day (Sunday) I went to the restroom and I had some blood again. This time it was more pink than red but I was scared again. I called the doctor and received the same basic instructions and was told to contact my doctor on Monday. My doctor was on call and in the hospital all day Monday but I received a phone call first thing Tuesday morning asking for me to come in for an ultrasound to make sure everything was okay with my baby bean. They scheduled me in for Wednesday at 3:40 and I was a nervous wreck... I waited for almost an hour (they had to squeeze me in between patients) finally when the doctor came in, she performed the ultrasound and there was my baby bean, measuring 8 weeks and 2 days. Exactly the right size! And, with a nice heartbeat. Oh, waiting that hour was totally worth it! I am so happy to know that everything is okay. I go back in 2 weeks for another check up and on March 10th, I go back for another ultrasound. I will be a couple days shy of 12 weeks by then and if everything goes smoothly, we can finally announce our news! I can't wait! I hate keeping it a secret! It's so hard for me not to tell people! So, I'm hoping and praying for a smooth few weeks ahead. I just sent in my prescription for Procheive (the progesterone gel) and will get it Friday and I've been taking my low dose aspirin daily. So, my hopes are high and I'm getting more excited and anxious as time goes by!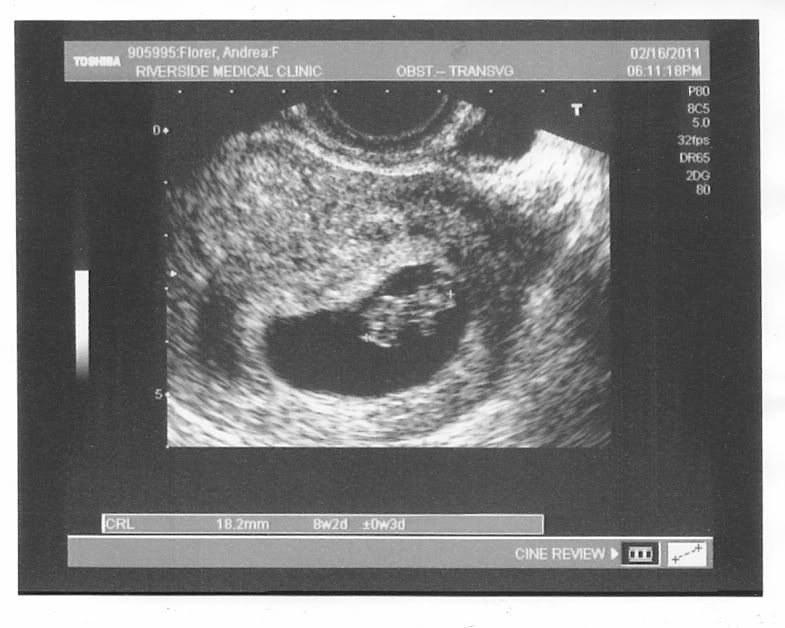 ---
5 Comments on Bleedingbaby[bump]mama
- Thursday, 17 Feb
whew!! glad you and baby are ok!!! s/he is a cutie already! i love ultrasounds!
usmcwife
- Thursday, 17 Feb
i am so glad everything is alright.. i really like ur doctor/office they really seem to care about their patients!
mrsfreeman
- Thursday, 17 Feb
Help! I'm in your same situation...my hubby and I had sex last night and now I'm cramping and bleeding. I am preg with twins and hear its more common with twins? I'm still scared.
excitedmisty (misty)
- Thursday, 17 Feb
the same thing happened to me with my son! i had a miscarriage before him...and i started bleeding just a tiny bit at 6 weeks...scared to death! and another girl in our 15 month baby development has had that too...she is 18 weeks along! apparently it is common! so glad everything is ok!
hayley-france
- Thursday, 17 Feb
So glad baby is still doing fine! :) xx