Write a new blog
---
09-8-2011 - 4 weeks
My mood while writing this blog:
excited
---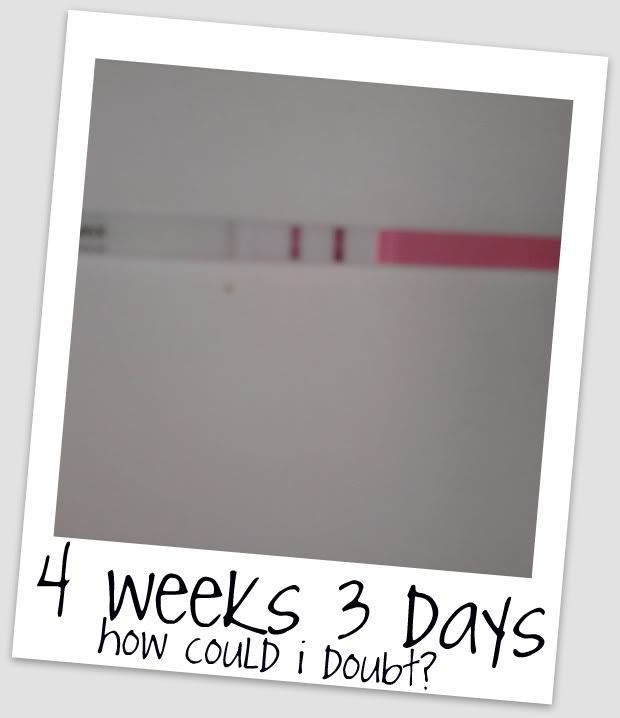 If you look at my last blog you will see that the test line is sooo much darker in this test than it was. To me that means there is more HCG in my system which should mean that my little baby is growing and growing :) WOO HOO! So this week my baby is the size of a poppy seed... which is pretty small to be ordering me around so much lol.
This week my symptoms include 1.) morning sickness. It isnt too bad though... its just a bit of nausea which does not go away.. or make me throw up. But when i am busy with my kids I can ignore it.
2.) That is unless I eat chocolate eww. I mean it makes me gag just thinking of it. And I am not into sweets at all right now. I can do the natural sugars like fruit and stuff, but anything else like cake or ice cream candy ugh just makes me want to gag. I mean that is def a good thing though! :) So that i would say is a food aversion! Lol.
3.) I am also craving italian food and grilled cheese! YUMMO! lol!
4.) Also peeing alot alot alot lol!
I think that that is it for this week.
I am taking Alive women's energy multivitamin and multimineral vitamins. They are big ones... Probably an inch long lol! But they do not make me sick and they help me not feel like i am starving all the time! If I take them at night instead of in the morning that day I am so hungry.
This time around I am scared to gain weight. I am shooting for 15 pounds. I have been eating very good and only trying to give my baby good foods. Of course I still have some pizza now and then, but I am trying to not not not just let go and be pregnant and eat whatever and gain 40 more pounds. I gained 40 with Rebekah and 30 with John... so I am trying to just keep a handle on it this time. One of the good things is that I did buy a scale a couple of months ago so I can keep a watch on my weight gain so that is good! Well I am just going to go then. I will talk to you all later!
GOD BLESS!
Brittney
---
4 Comments on 4 weeksBabykhan
- Tuesday, 9 Aug
good to hear ur baby is growing, and yes test lines are getting so much darker than before. wishing u h&h 9months!
mamadear04
- Tuesday, 9 Aug
Good luck on the weight thing..My goal was only 25 lbs in this pregnancy and here I am at 50 lbs..hehe Thats ok I will be b/f again till she is close to two, so im sure I will lose the seight..Good Luck
mamadear04
- Tuesday, 9 Aug
Good luck on the weight thing..My goal was only 25 lbs in this pregnancy and here I am at 50 lbs..hehe Thats ok I will be b/f again till she is close to two, so im sure I will lose the seight..Good Luck
mamadear04
- Tuesday, 9 Aug
Good luck on the weight thing..My goal was only 25 lbs in this pregnancy and here I am at 50 lbs..hehe Thats ok I will be b/f again till she is close to two, so im sure I will lose the seight..Good Luck