Write a new blog
---
26-5-2009 - Update and pic of Rayray
My mood while writing this blog:
annoyed with my leaking breasts
---
So Rayan is now 12 days and half an hour old lol I can't believe how fast it's gone it's really scary. I don't want him to grow lol if only pregnancy went this fast. He's doing great breastfeeding like a gem, he sleeps through out most nights I actually have to wake him for feeds. Today we slept until 10am! The health visitor was just round to do his hearing screening and that was ok. She said I should be feeding him 150ml each feed because he's a 10lb baby. That seems a bit much to me don't you think? I have been giving him 80-100ml every 3-4 hours. M breasts have been leaking like crazy, nursing pads last 45 minutes I'm not even joking! So I have made my own ones out of maternity pads haha. I cut it into the size of a nursing pad and stuck it in my bra. It's so much better and I stay dry for hours yay! Seriously though I used to wake up soaked smellying all sour lol not very nice as you can imagine. My PP belly is disgusting lol it's worse then I thought it's bloody huge I still look pregnant. My midwife measured it and was like it's the size of someones who is 28 weeks pregnant lol. She also said it's bigger then normal because I was carrying a big baby. It's so weird it wobbles when I'm walking lol. My c-sec incision had to be bigger then normal too :( it's huge compared to my mums it's like double the size. My recovery was really bad because of this, it was hell standing up for the first time I actually fainted with pain! After my c-sec I got reeeeally nauseous and threw up 8 times! Everytime I did it pulled on my stitches and obviously I couldn't feel it beause I was numb. Anyway one of my stitches burst open thank the lord I was still numb anyway this is why standing up was so painful. I'll expalin it all better in my birthstory.
Here's a pic of my love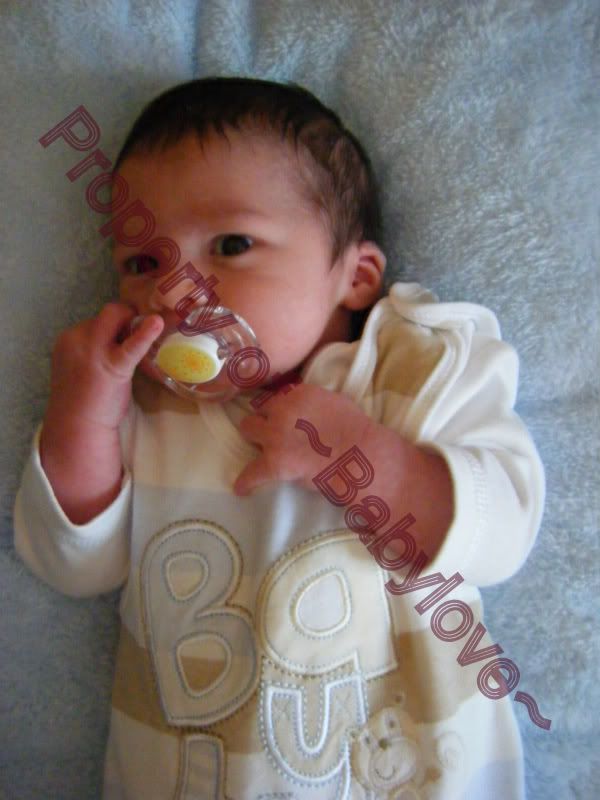 ---
16 Comments on Update and pic of Rayrayskittles0607
- Tuesday, 2 Jun
He is so adorable!!!!
Lorijs1
- Sunday, 31 May
Hi again love the photo he is so alert and gorgeous!!!! sorry to hear about your pain. Dont worry the belly will go down just rest and look at that beauty...
ajohnson904
- Saturday, 30 May
he is so precious!
ryry ~pink~
- Friday, 29 May
don't worry about your stomach - your uterus is supposed to shrink back down to size in about 6 weeks which means that for every postpartum week it should shrink about 6-7 weeks worth of growth in size - you've already shrunk about 12 which seems on track despite what you've been through. i've never been through it before but i hear it takes at least a month for most women to stop looking pregnant. my sister-in-law informed me that i'm going to HATE my body for at least a month after birth and she went through everything naturally - so it's only normal and it just takes time. you were so tiny to begin with that i'm sure it's just hard to see yourself bigger... rayan is adorable - just hold him in front of your belly for pictures and in a year you'll have absolutely no recollection of your post pregnancy bulge! =) here's hoping for no more popped stitches!
minkymoo78
- Wednesday, 27 May
He's gorgeous
402nikkib
- Wednesday, 27 May
just gorgeous!!! I knew he'd be a beautiful baby! Good job mama!
MAMAjo ♥
- Tuesday, 26 May
oh god! he is so gorgeous! he reminds me of my first son!!! head full of hair!
My Tiny Little Miracle
- Tuesday, 26 May
I am in love with your baby, I want a boy!!!! wait..... what am I thinking? lol so lovely!
Sarbear85
- Tuesday, 26 May
OMG so sorry to hear about the c-section recovery not going well for you. However, it looks as though its all worth it! :)
tifftiff
- Tuesday, 26 May
Awww, Rayan is so cute and so big too. I'm jealous because your son sleeps so well. My Victor sleeps 2 hours max each time after feeding then wake up all hungry. Maybe I need to give him more milk.
happyinvention
- Tuesday, 26 May
he's such a sweet looking little baby :) as far as how much to eat, try not to worry! the baby will eat when it needs and will tell you! sometimes tempy will eat every 1.5 hours- sometimes she can manage 4 hours between feedings (usually at night). sometimes she chows down on my boobs for 30 minutes, sometimes only ten!!!
he really is a beautiful little baby :) very finished looking! tempy is only 1 lb away from him, lol
have you looked into a belly bandit? they are supposed to be GREAT for c-sec mommys- gives your tum support and your back. i use my bamboo one everyday when my hubby and i go running and it's shrunk my tummy down considerably more than if i had gone without it. it feels comfy to wear :)
mamaofaj
- Tuesday, 26 May
It does fly by too fast lol... i got sick with my first c section too... so not fun! Hope it all gets better soon!
Mandy Irish Mommy
- Tuesday, 26 May
your doin great to go through all that pain and still breastfeed, your brillent. rayan is so cute i love his dark hair very hansom.
steph mom of 3 beauties x
- Tuesday, 26 May
Awwwwwww hun he's a stunner! How did lil you make such a big boy like him! I wouldn't be able to take my eyes off him if he were mine imagine my poor baby when he comes he will be overwhelmed by me as iv'e wanted him like forever! Everytime i see ur baby it makes me want mine now! Im so impatient! Im soo sorry to hear about all the discomfort you had initially i hope this has passed and you are feeling alot better now lots of love to you steph x x
notnottrying
- Tuesday, 26 May
He is adorable! Congrats again!
hilary-n-tremayne
- Tuesday, 26 May
he is sooo cute!!! congrats again!