Write a new blog
---
01-10-2009 - A pic of Rayan's 2 little teeth at 4 months old
My mood while writing this blog:
Ok
---
Just thought I would share a pic of his cute little teeth lol. I mentioned he cut both his bottom teeth a few weeks back and some bitch messaged me saying I'm lying because I have never uploaded a pic of them! Yeah ok then because I have nothing better to do with my time then to come on here making things up.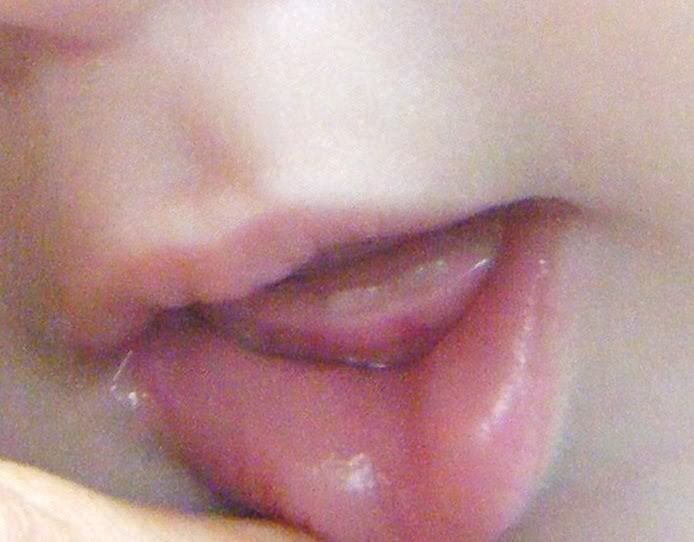 I was a bit worried because they aren't very white in colour but I went for my check up at the dentist and got him to take a look at his teeth and he said at the beginning they are a transparent white. My sister is also a dentist and she said the same thing. It was so cute they put him in the dentist chair and gave him a sticker lol I was so gutted I didn't take my camera along :(
I was dreading the whole teething stage I kept hearing loads of horror stories about how your baby turns into a monster lol. I don't mean to brag but he was an angel, nothing changed apart from the drool and the constant need to chew on something. He's such a strong little boy :)
---
10 Comments on A pic of Rayan's 2 little teeth at 4 months oldladybugtricia
- Wednesday, 7 Oct
Awww...my son is 4 months as well and just got both his bottom teeth in..my other boys didnt cut them this early...but babies do cut them when there ready lol..congrats on the little ones teeth..Im showing Dylans to everyone lol
fairbanksbaby1
- Monday, 5 Oct
That is amazing!! I was wondering when my little girl would start getting her first teeth. She is 4 1/2 months old and has really started to drool a lot!!! I think we will be there soon!!
Baby Bliss
- Saturday, 3 Oct
OMG how freaking adorable. This is amazing.. I swear being a new mom I never once imagined that our babies would hit these milestones sooo soon. Congrats on him being an angel. Azia is great too but still no teeth. Thanks for the pics. I think if I had not seen this pic I would not believe it.. WOW!!! :)
lexibugsmommy
- Thursday, 1 Oct
Wow, teeth already!! Lex didnt get hers til about 9 months!
jazzy18
- Thursday, 1 Oct
Cant believe that their teeth could come in that soon? wow! It's cute.... :)
mrs.leyva
- Thursday, 1 Oct
Another milestone for baby Rayan. Thanks for sharing these great moments with us.
steph mom of 3 beauties x
- Thursday, 1 Oct
Awww how cute are those lil toothy pegs!! Can't wait for Danyal's to properly emerge! How old was he when the first one came through hun xx
Mandy Irish Mommy
- Thursday, 1 Oct
wow look at those. and it didnt even bother him. such a brave little boy. mischa is drooling crazy and biteing everything but no sign of teeth.
hippiemommy09
- Thursday, 1 Oct
well they look just like Jude's teeth when he got his bottom teeth and he got them at 5 months so whoever was giving you a hard time is just being mean..geez this website drives me so nuts sometimes with the damn rude women on here. Jude is now 8 1/2 months and has his two bottom teeth and two top teeth and the teeth on each side of t5he top ones are coming in, so yea some babies get their teeth fast..why in the world would they think you lied, why would someone even lie about that lol!!! whatever, you and big boy rock and congrats on those big boy teeth lol!!!
heathernunez
- Thursday, 1 Oct
Some People Need To Just Shut Up!!! Yeah There Are Quite A Bit Of Fakes On Here And I Am Sure We All Know This By Now!!! 3 Of My Children Had Teeth Come In At 4 Months!!! They Will Change Color Once They Start Growing A Little More. Your Son Is Absolutely Adorable!! I Don't Understand Why There Are So Many Jealous Haters In This World!!!