Write a new blog
---
14-6-2010 - Rayan turns ONE! *tons of pics*
My mood while writing this blog:
So proud
---
I'm going to start uploading all Rayan's new photos into this blog. Don't worry I will send out a message each time I update it.
I still can't believe he's a year old, he's actually 13 months old today it's crazy. He celebrated his birthday in England, we had a little party with just family and a few kiddos. We had so much fun opening his presents. He of course I had no idea what was going on and was way more interested in the wrapping paper. He has learnt so much it's unbelievable, he amazes me all the time. His speech is so good he can say so many words I will list a few of my favourites lol
Haa = Hair
Nnna = Nose
Eeee = Ears
Maf = Mouth
Ti = Teeth
Hass = Horse
Wooo = Dog or cat lol
Ta yay = Thank you
Yaya = Rayan
Guba guba aaar = Gummy gummy bear (lol!)
Caa = Car
Yum yum = Food
Mmm yum = also food
He also says a few moroccan words like Hlib which is milk and Hak which means here you go but he uses for loads of meanings he says it to pass something, when he wants something you have and when he wants you to come over so he is saying Hak all day lol. He understands when something is hot he starts blowing on it. If he hurts himself he says didi and points to where it hurts. He got a few mosquito bite the other day and when they itched him he would point to them and say didi, it was so cute. He holds the phone to his ear and talks so much jibberish if he sees anyone talking on the phone he has to have it.
As for teeth he has 4 on top and 5 on bottom his first molar cut through a few days ago I can't believe it! He loves it when I brush his teeth he finds it hilarious.
He is wearing size 5 nappies, size 7 shoe and 2-3years clothing. We had to get his Moroccan hat made and is head circumference was 52cm!! His dads head circumference is 57cm so he's not far behind haha.
Here are the pics from his bday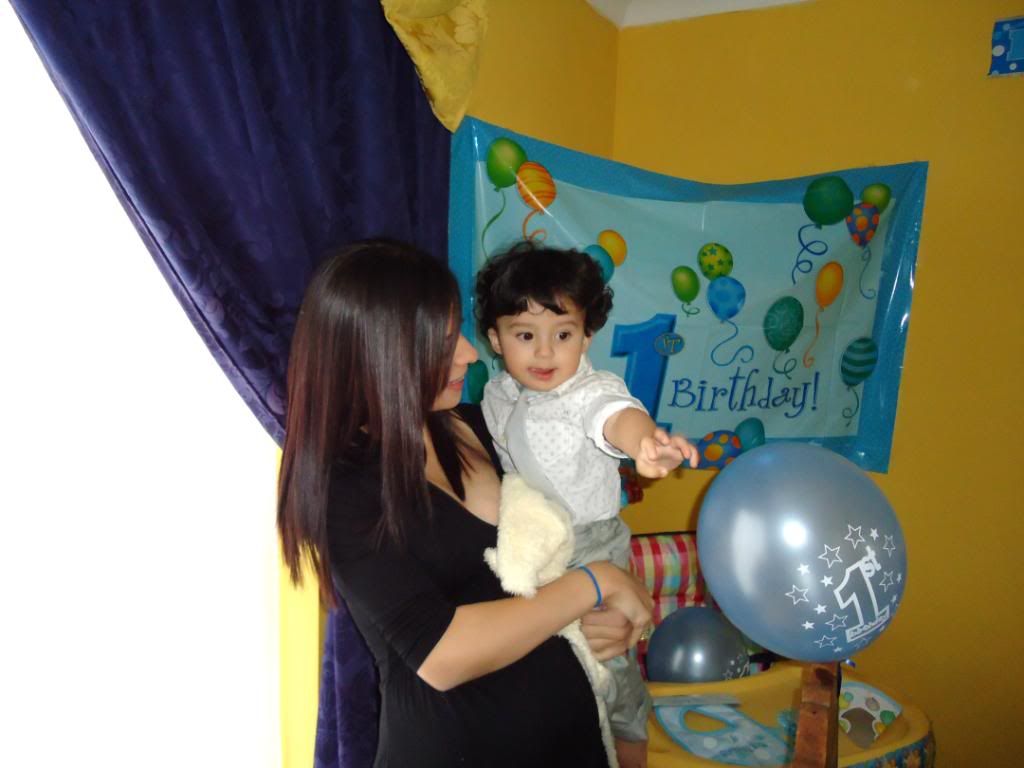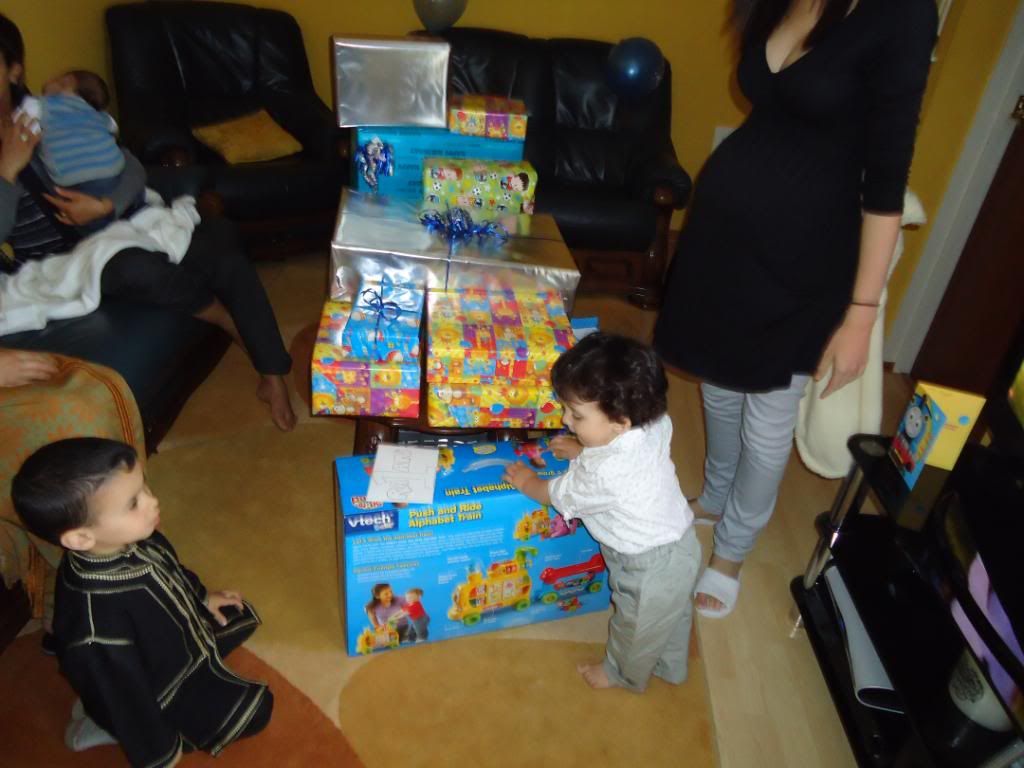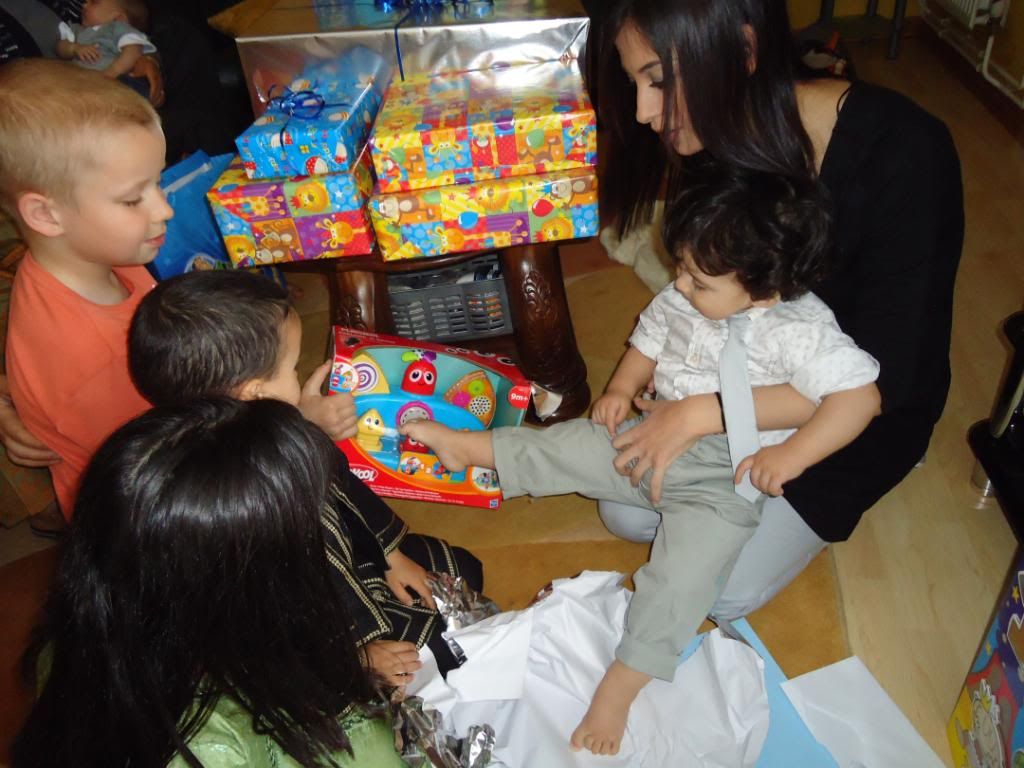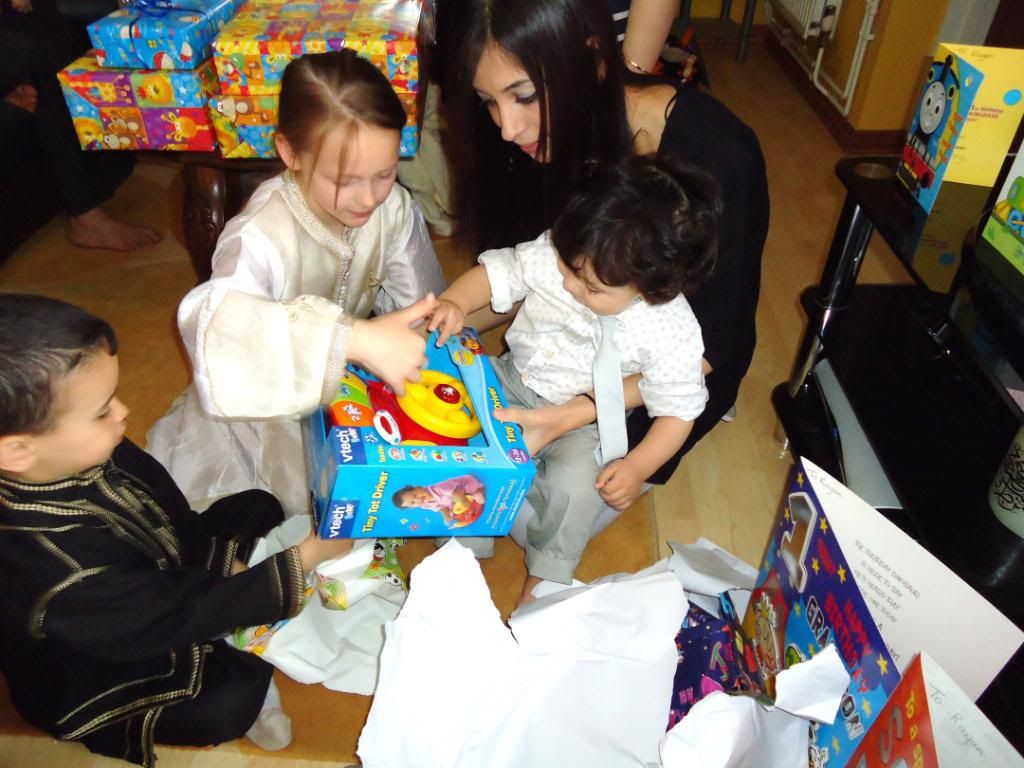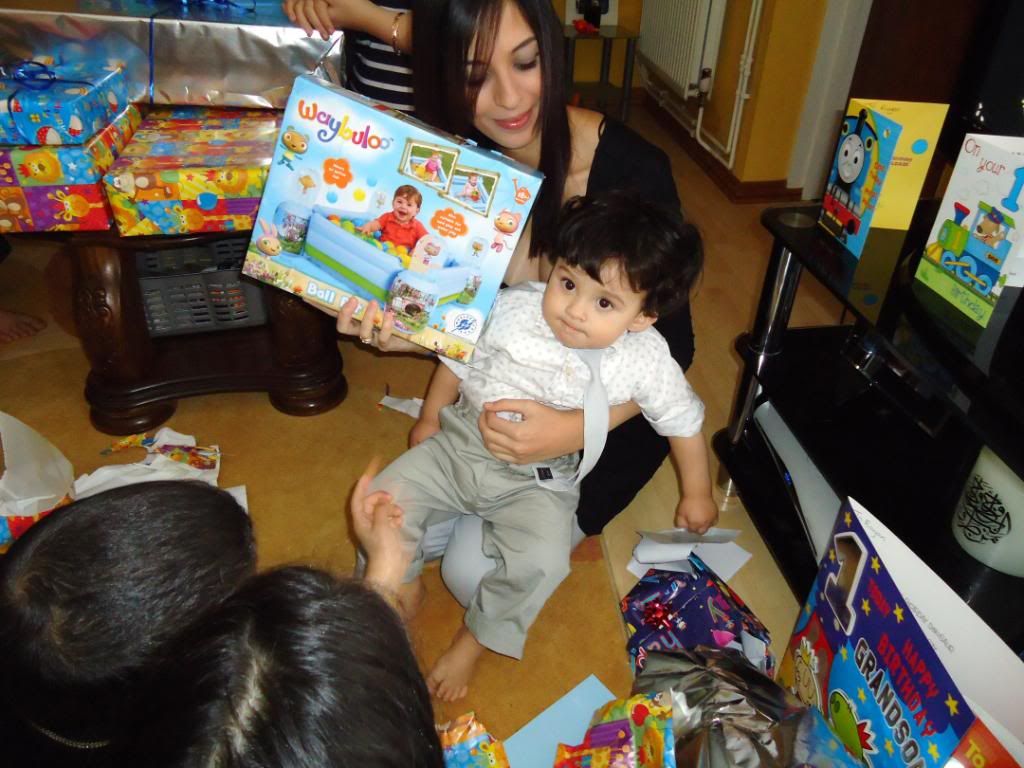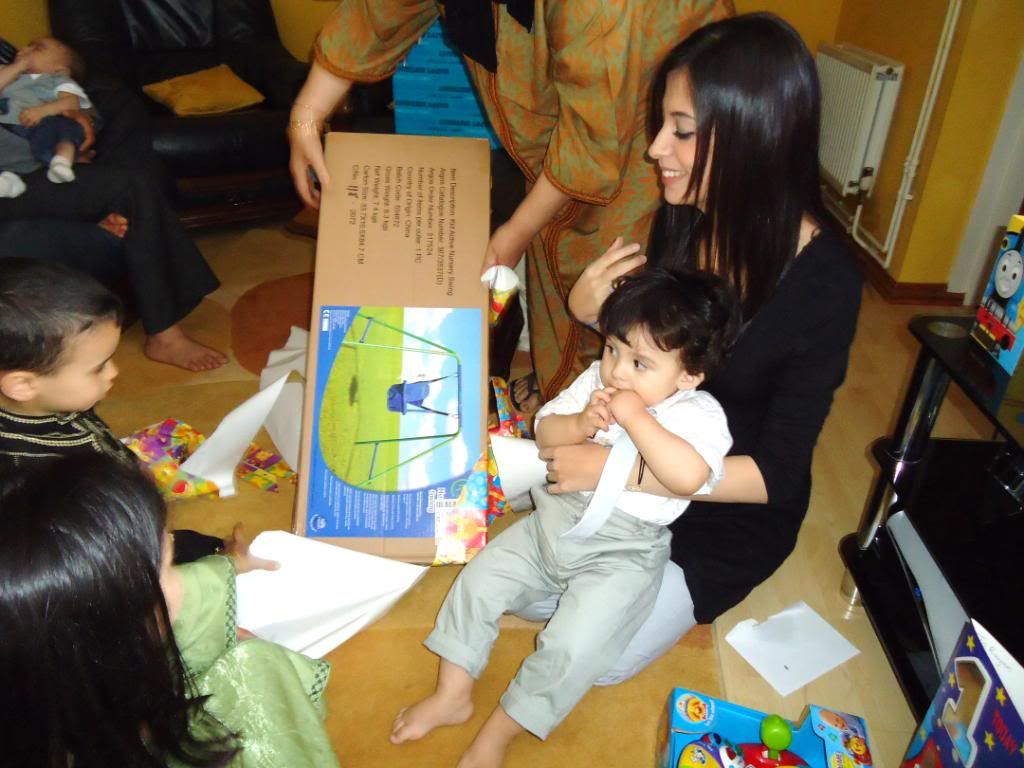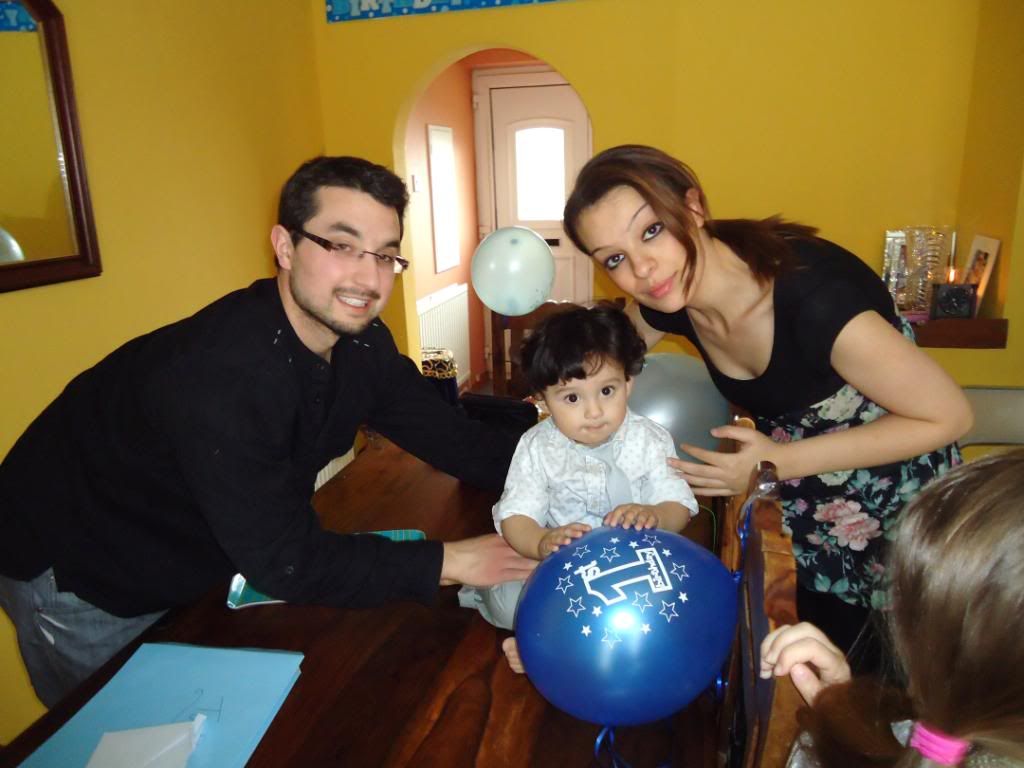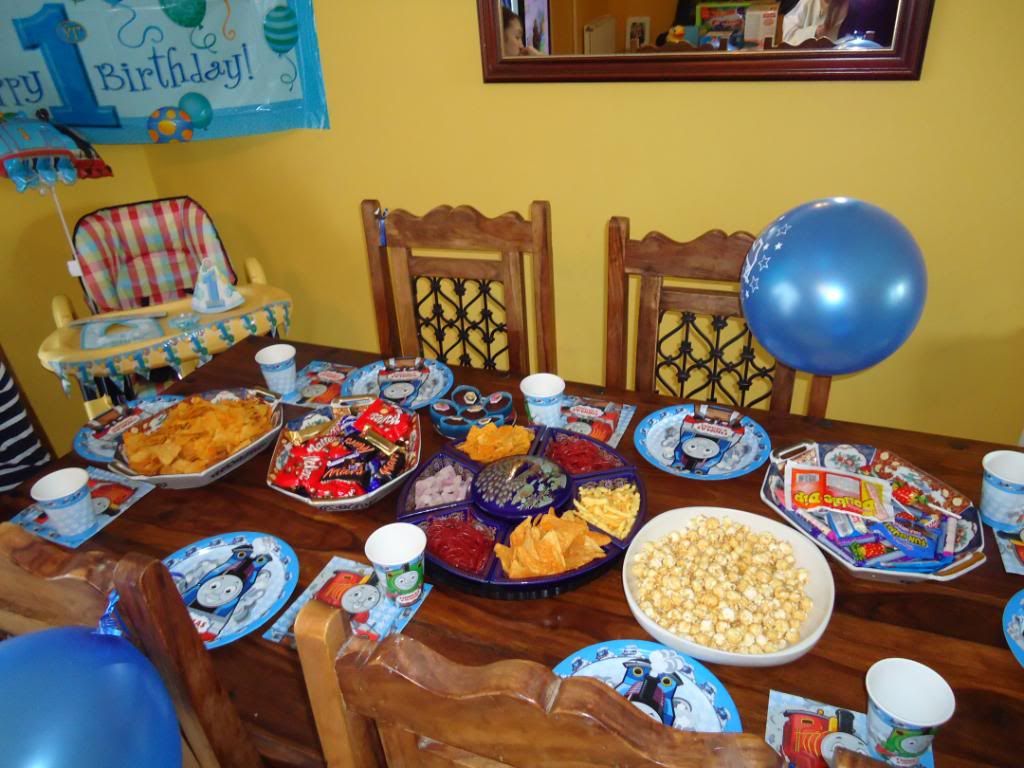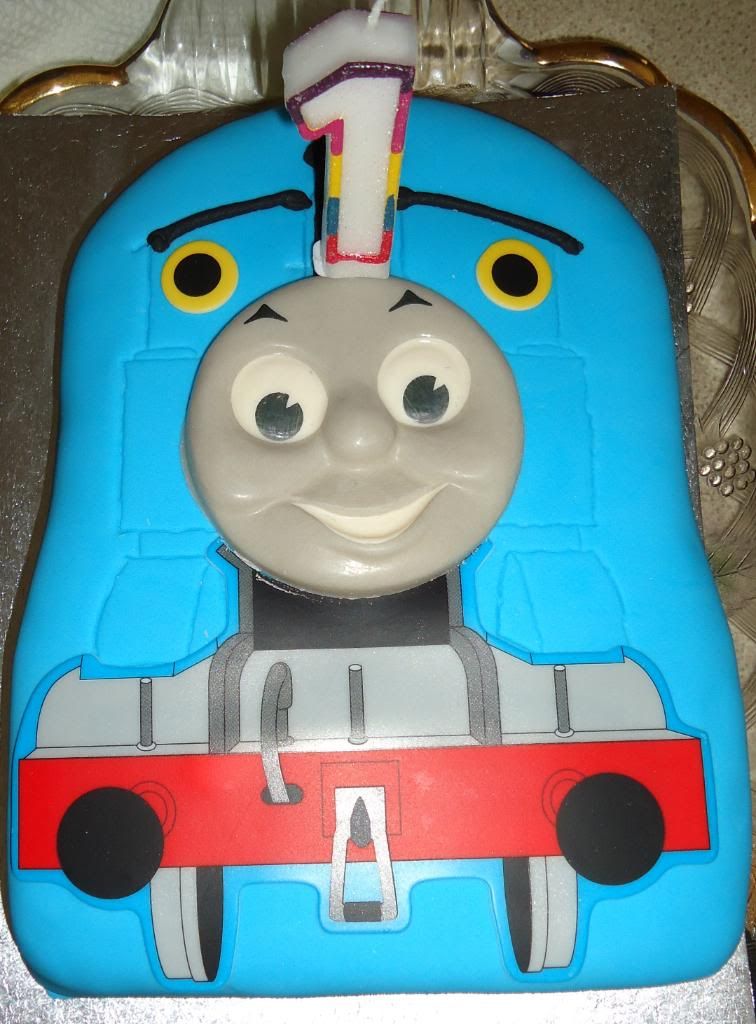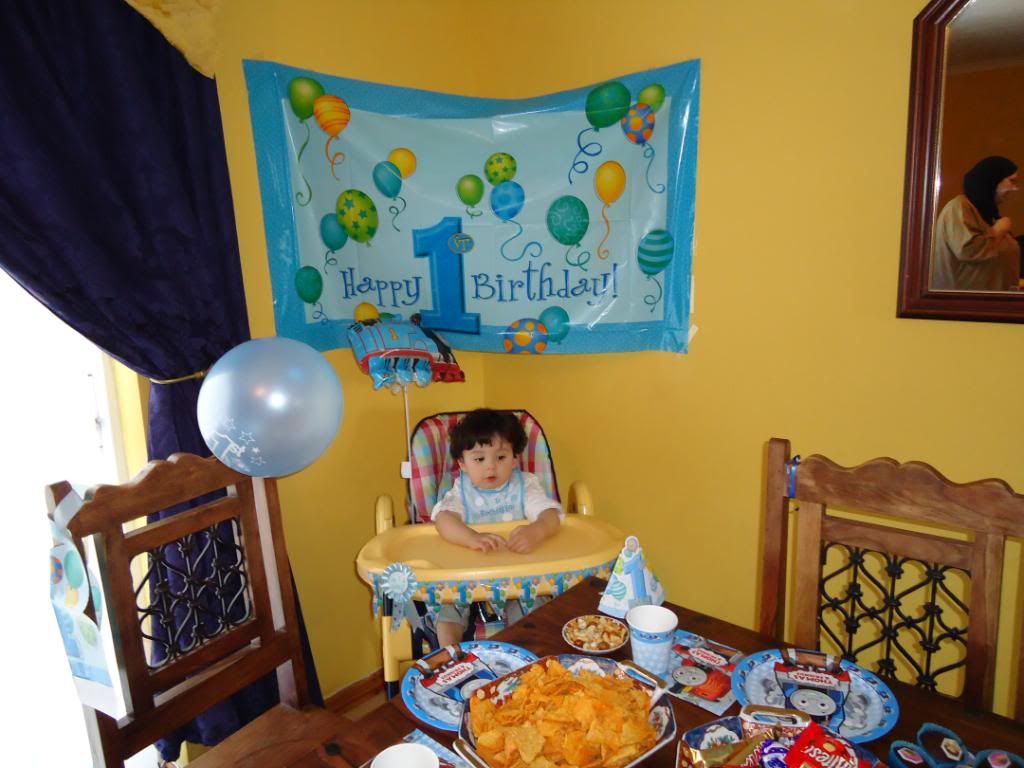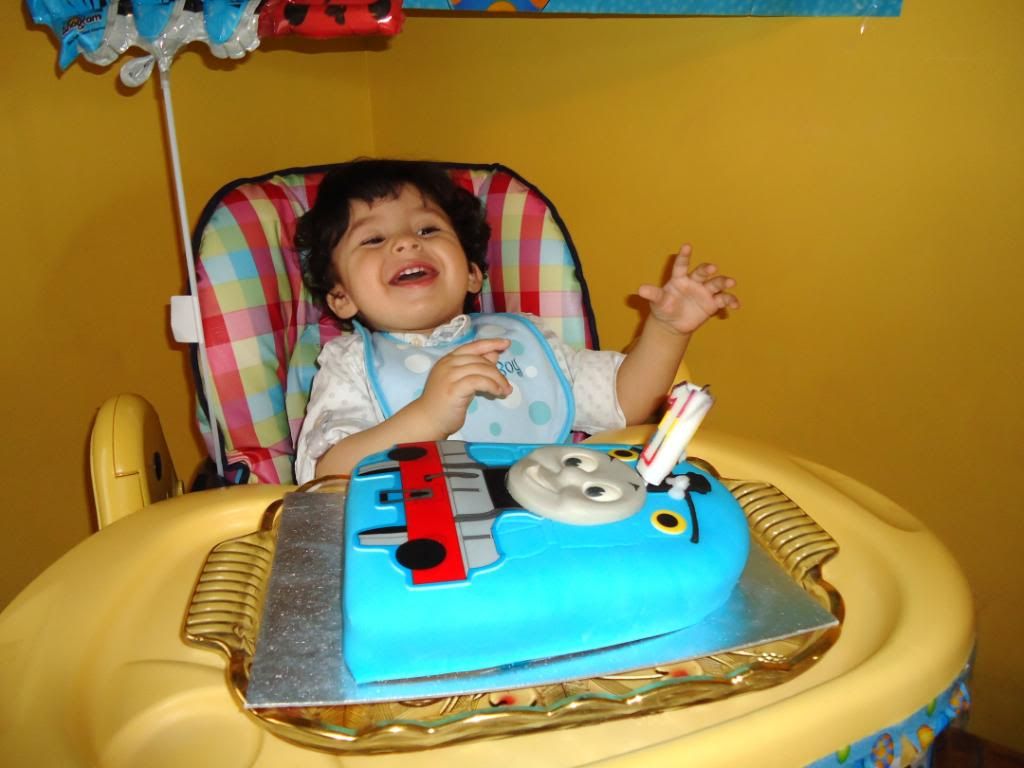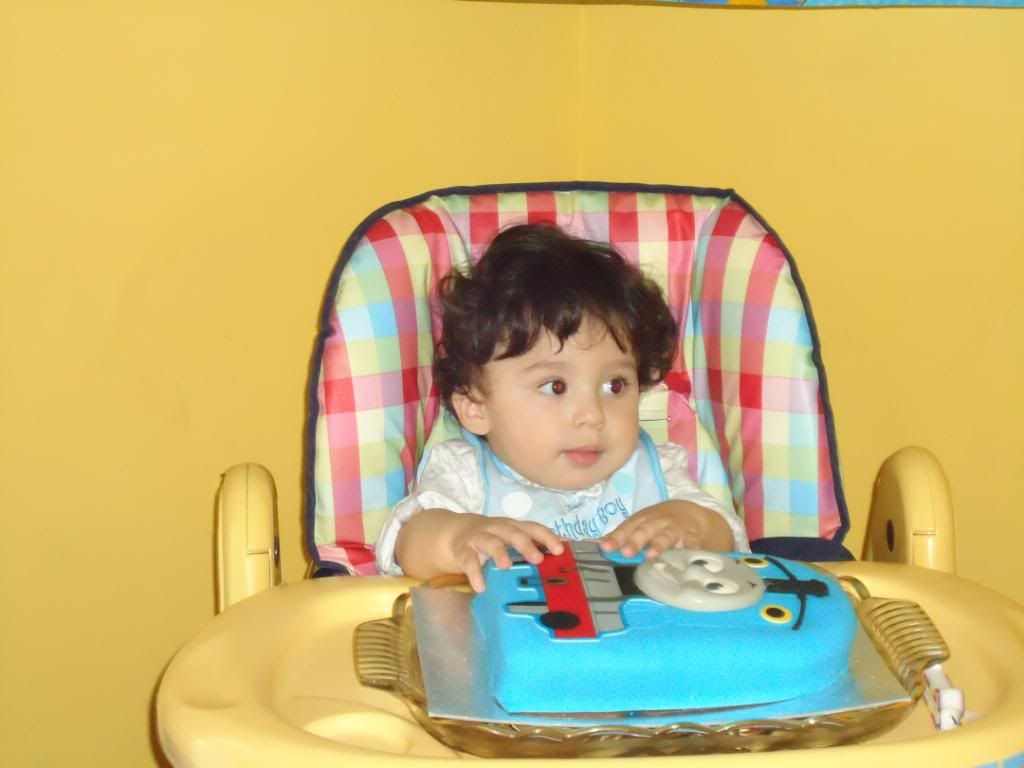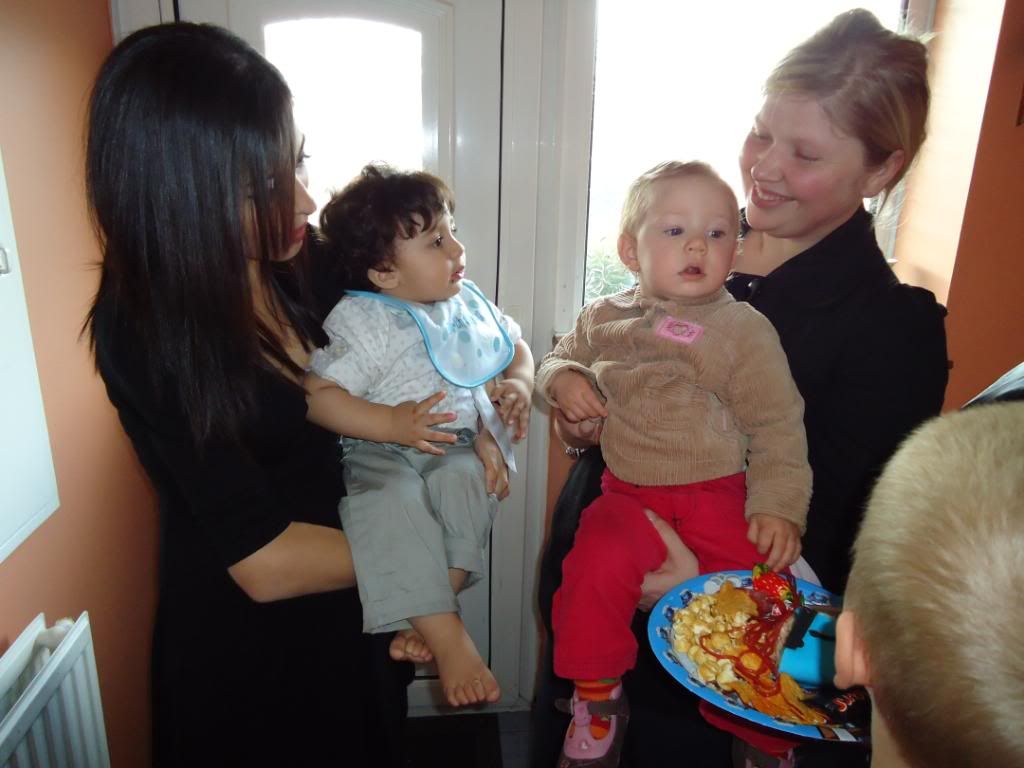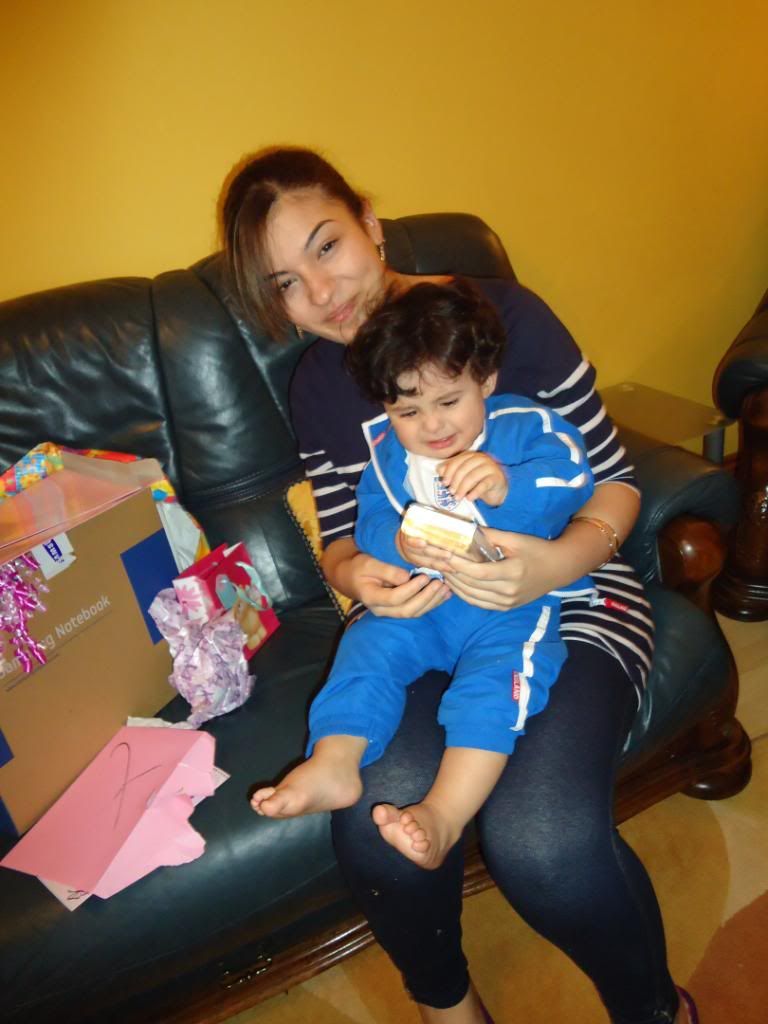 Do you remember the sports car I got Rayan? Well it arrived and had screws missing for the wheels and there was a huge chunk of glue or something hanging down the botttom of it. Omg I was so mad! It didn't look safe at all and there was no way I was putting my baby in there. Luckily they returned it but I was so bummed about it. So when I got back to Morocco my husband told he got Rayan and me a surprise to make up for the car. I had been trying to guess what it was for about a week with no idea. So yesterday he drives us to the surprise and I have no idea where we are going. He takes us to this farm that was about an hours drive from home. Here's the surprise!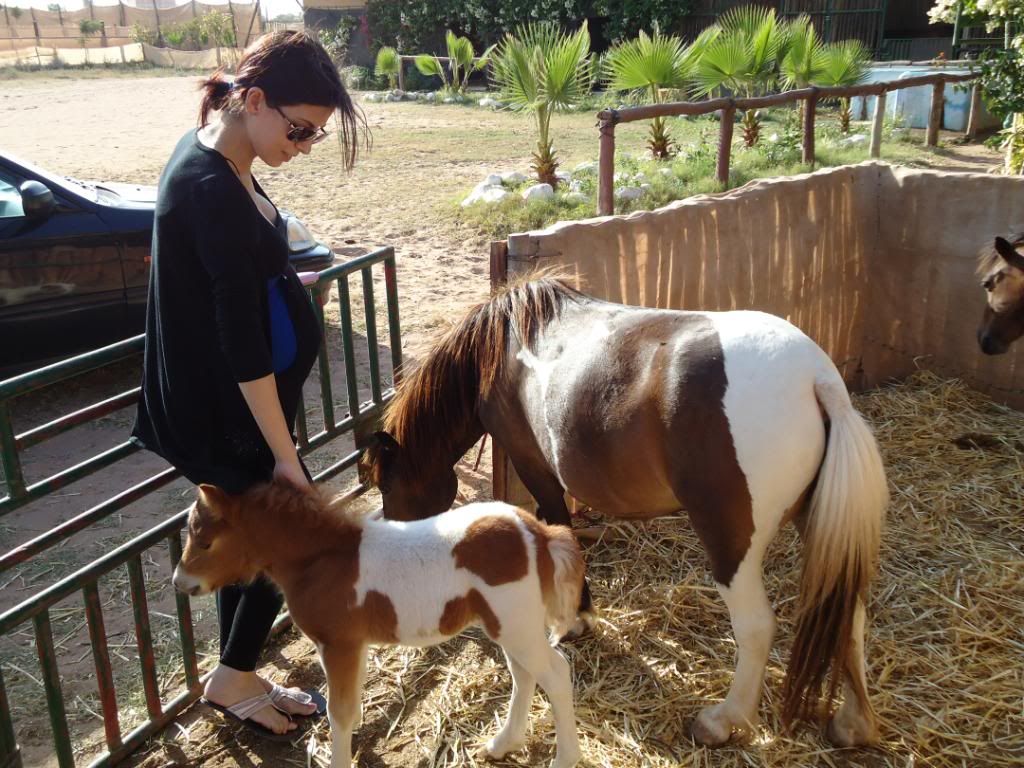 Rayan's got his own baby pony!! He's only 10 days old and we get to take him once he's done feeding from his mum which should be in about 5 months omg I'm so excited! We can go and visit him until then as much as we want and do what ever we want with him yay! Rayan LOVED him he was stroking him and laughing it was so cute! I love it when my husband does things like this for me, it has totally made up for the disappointment of the car.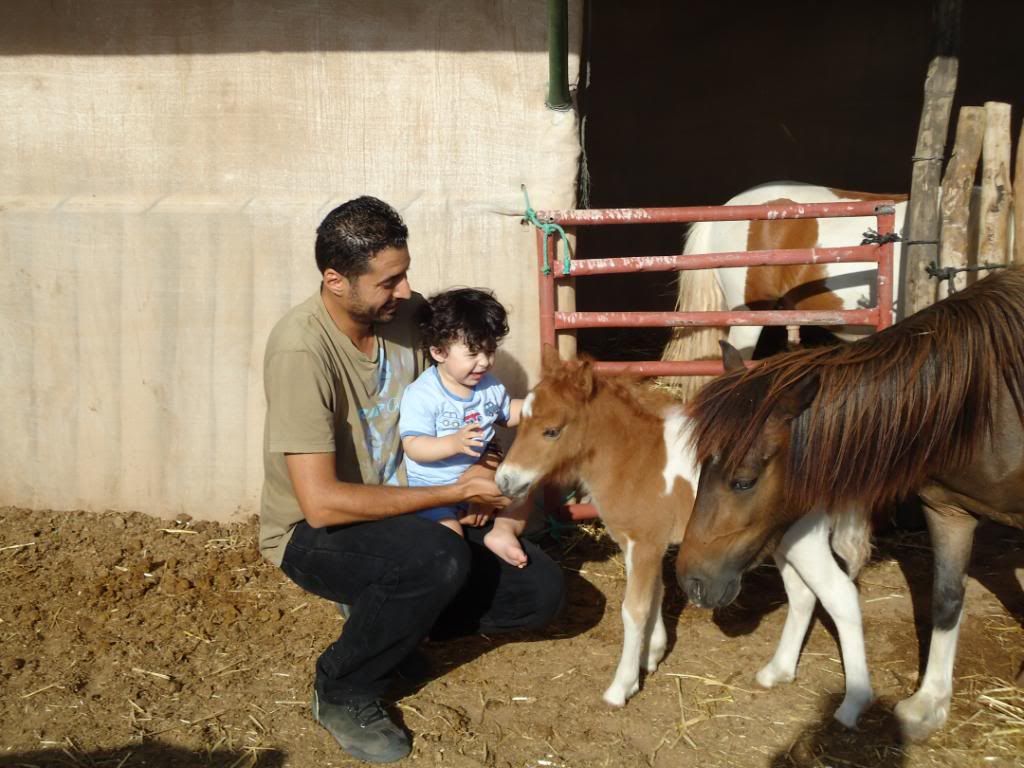 Rayan loving his new pony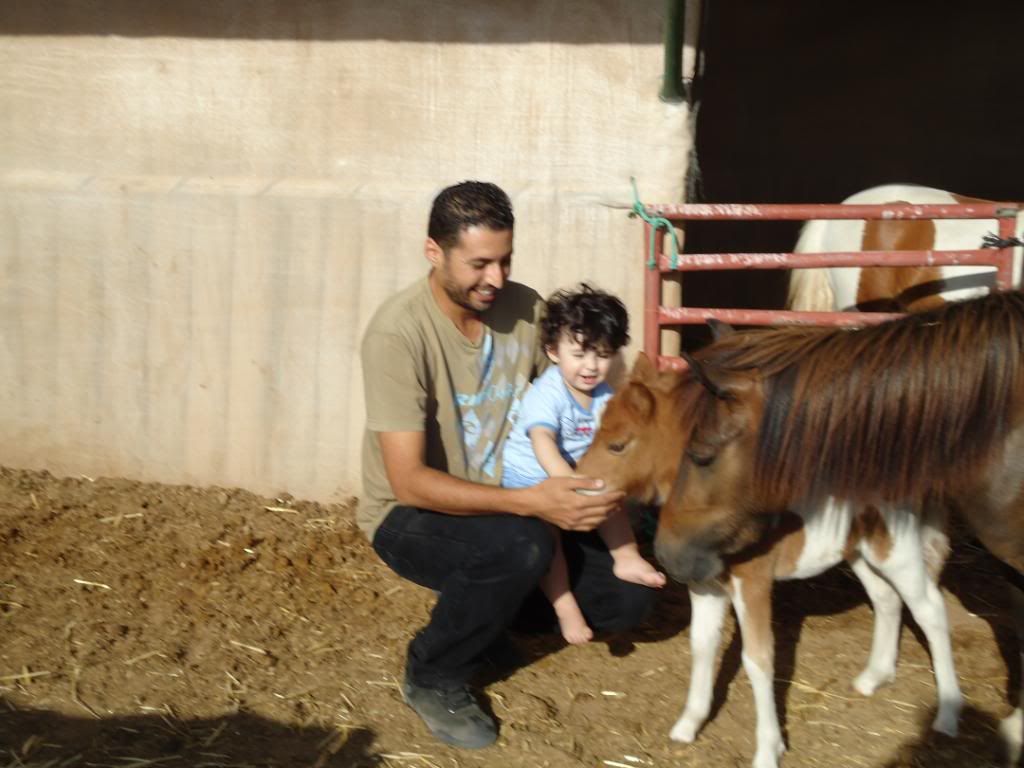 Grabbing his nose lol I think Ray thought it was his rocking horse from home lol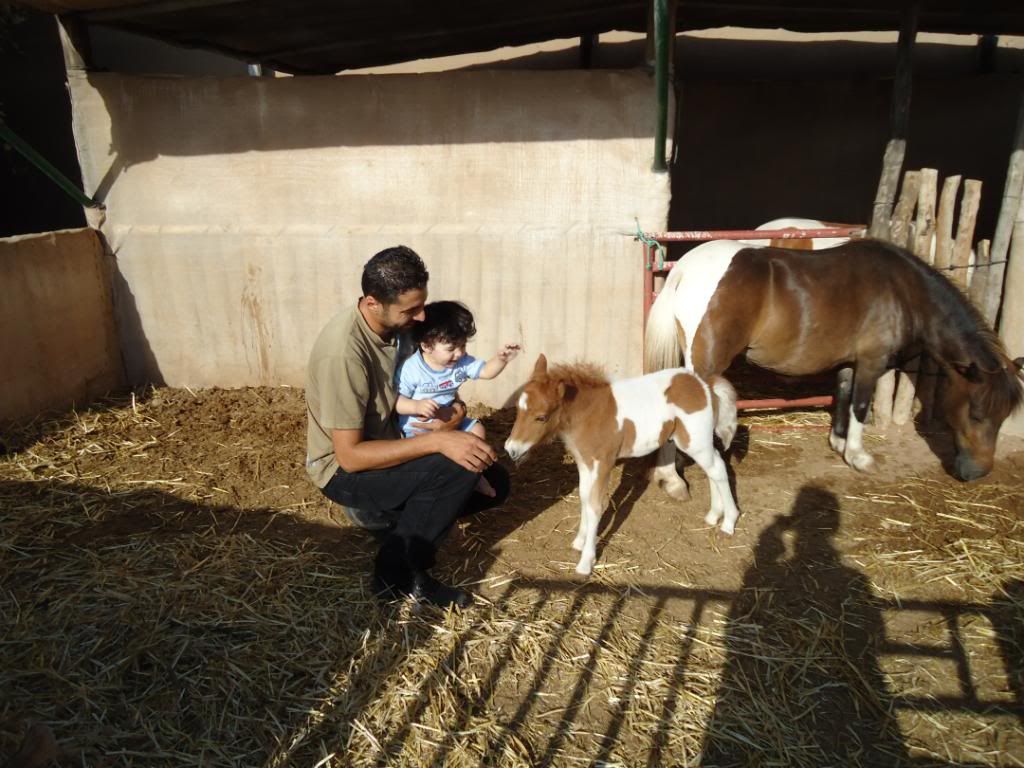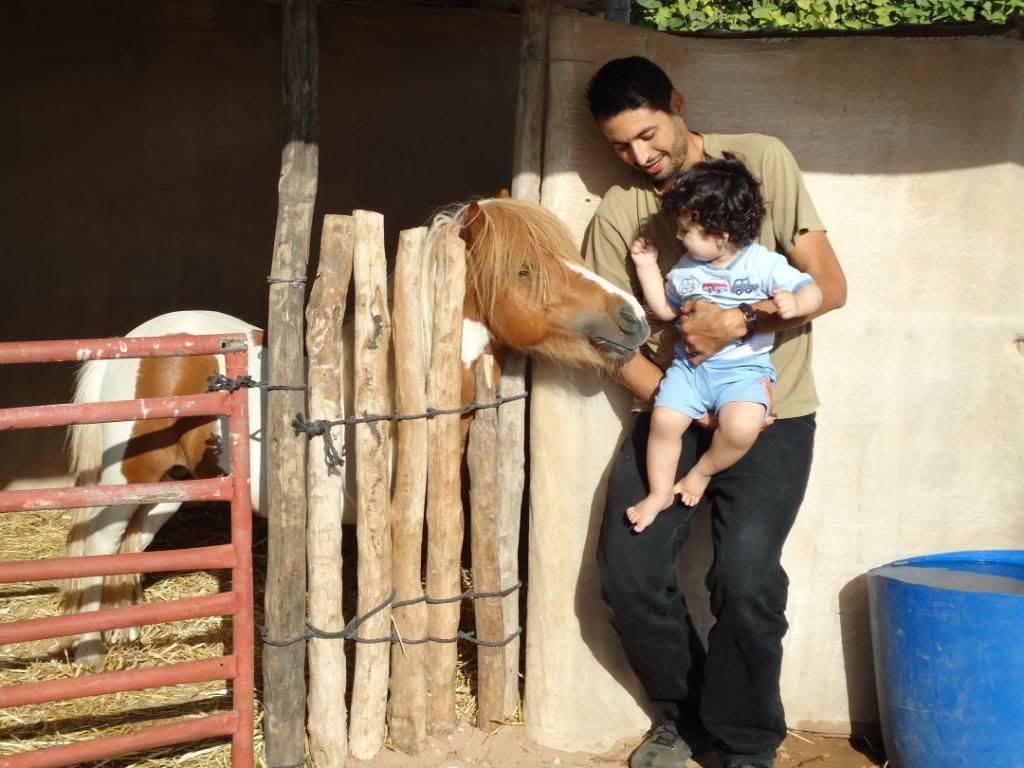 The baby ponies daddy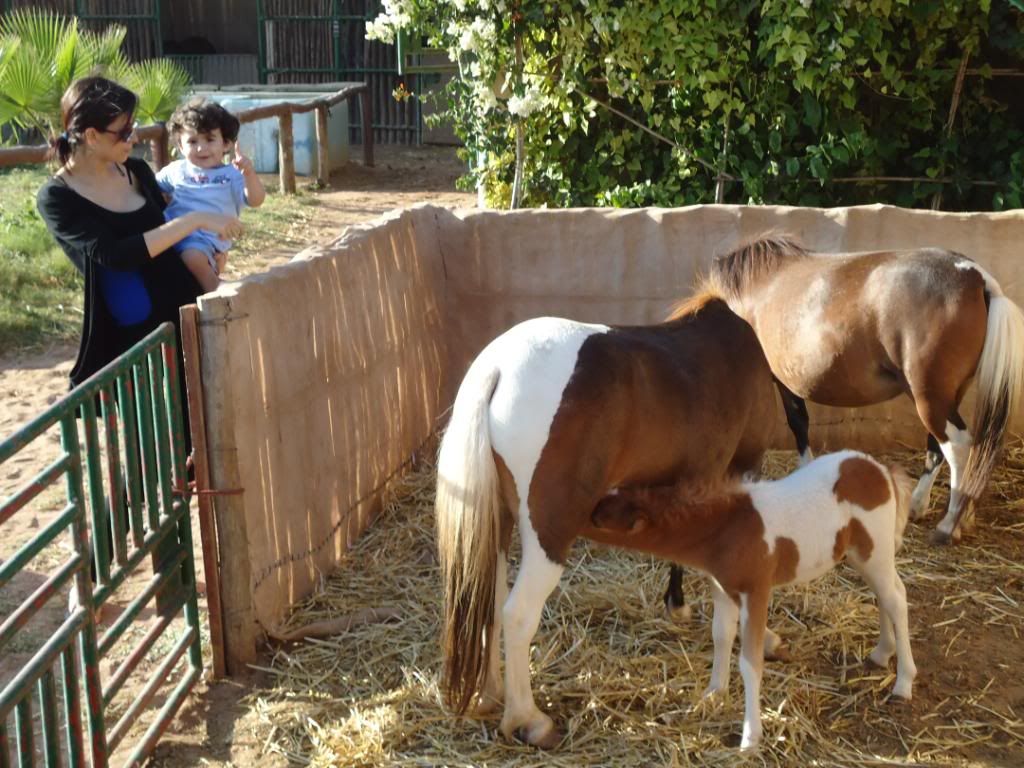 How cute is he feeding :)
Hope you enjoyed the blog :)
---
10 Comments on Rayan turns ONE! *tons of pics*proudmommyof3♥
- Wednesday, 16 Jun
Awe, great photos! Looks like he had a great time at his Bday!
ryry ~pink~
- Wednesday, 16 Jun
lolol how cute!! how many people can say they have a pony?!
LovingRNMommy
- Monday, 14 Jun
Lovely pictures, it looked like Rayan, you, and everyone else had a blast! Love the birthday theme and the pony! My 4 year is just starting to ride now (doing pony lessons) this summer, I am so excited for her lol! If Rayan really loves the horses, I bet he'll be a natural!
nhowa9
- Monday, 14 Jun
Awwww that is far too cute to the pony! spoilt?! haha Rayan will love it im sure.. The photos are fantatsic, his birthday looks very similiar to what we did for Kyelahs and we had alot of fun too. i cant beleive how big rayan is getting, do you think he will be taller than you guys when he is older?I noticed he scored a ballpit for his bday too?! haha Kyelah has one and it drives me crazy when the balls go flying everywhere! Well as always your little man looks as handsom as ever with his little guys tie =) talk soon x
BraydensMommy1609
- Monday, 14 Jun
Those pics are so cute! HE is adorable and you are so pretty =)
lisa187
- Monday, 14 Jun
Looks like a really fun party! A pony! What a surprise!
steph mom of 3 beauties x
- Monday, 14 Jun
OMG!! A pony! how lucky is he? Awww i was filling up looking at the pics they are all soo adorable hun! he looks soo handsome! It looks as though he had the best time! And you look stunning! i love how shiny your hair looks! how do you get it soo nice? mine always looks so damn dry! Anyway thanks for sharing! They are truly great pics! xxx
Baby Bliss
- Monday, 14 Jun
Gorgeous family. BTW..Your son slash soon to be kids are super lucky.. Tons of happiness in the pics
katekins
- Monday, 14 Jun
Aww what lovely pictures! He looks very happy. And a pony! Better than a car anyday lol x
Mommy2KayleeAndKeira
- Monday, 14 Jun
he is so adorable and getting so big. how tall is he? i love his pony!