Write a new blog
---
27-12-2010 - R's 19 month old (lots of pics)
My mood while writing this blog:
Ok
---
It's been a while since I updated on Rayan he will be 20 months Jan 14th.
Rayan is 19 months old omg I can't believe it! He's turning into a lil man for sure. He is so kind and sweet. The other day I took him to my friends house she has a 3 year old. He loves other kids he followed him around all day and loved playing with him. The lil goy ended up pushing Rayan to the floor L my poor lil guy looked heart broken he was in shock he has never had anyone be so mean to him in his lil life lol. I seriously didn't know what to do I wanted to yell at him of course but couldn't cos his mum was there. I ran to Rayan and gave him a hug he held onto me so tightly he was shaking. He soon calmed down and the first thing he did was get his toy out of my bag and gave it to the boy and said huggy and gave him a hug. My son is a MUG lol he should go whack him one back haha. He's so sweet bless him. He is so helpful he helps me with so many things. After I change Sirine's nappy he takes it to the bin or he will pull a wipe out when he sees me changing her. If he sees a wrapper he takes it to the bin. He puts all his toys in the toy room when he's done. I also think he may have OCD lol he can't stand anything on his hands, if he has a hair stuck on his hand he goes psycho! Screaming haar haar lol he hates stains on his clothes, hates marks on his toys. He scribbled on his trainers the other day and I can't to get the pen off so every time he puts them on he has a moan about the scribbles lol. If he bumps his head against something he will tell it off and hit it lol. His speech is amazing he says words in 3 different languages. Moroccan, French and English. Bless him he gets so confused sometimes lol. My husband speaks to him mainly in Moroccan and adds some French and English. I speak to him mainly in English and some Moroccan everyone else speaks to him in Moroccan and French only. He will thank us for it when he's older and can speak 3 languages lol. My husband speaks 5 languages so he's very keen on teaching Rayan as many languages as we can. He now weighs 30.8 lbs he is fricking huge! His growth slowed down a lot but has suddenly shot up again. He's way off the charts and catching up with a 4 year olds weight. It's mainly in his height cos he doesn't look fat at all he actually has a very thin body lol. Now he's cut his hair he must have lost about 10 lbs of that haha. He's wearing size 6 nappies we are hoping to start potty training soon I think he's def ready! He loves playing with balls he kicks and throws them, he tries so hard to catch em but never does lol. He enjoys feeding himself with a spoon and fork, he eats sweet corn with a fork lol one corn at a time so funny to watch. He can hop and is trying to jump he can run but falls a lot when he does. LOVES horses he neighs like them it's so funny. He is amazing! I love my lil guy he makes me so proud :) here are a few piccies from the past month
oh and he's started throwing tantrums lol he throws himself on the floor and hides his face and doesn't say a thing lol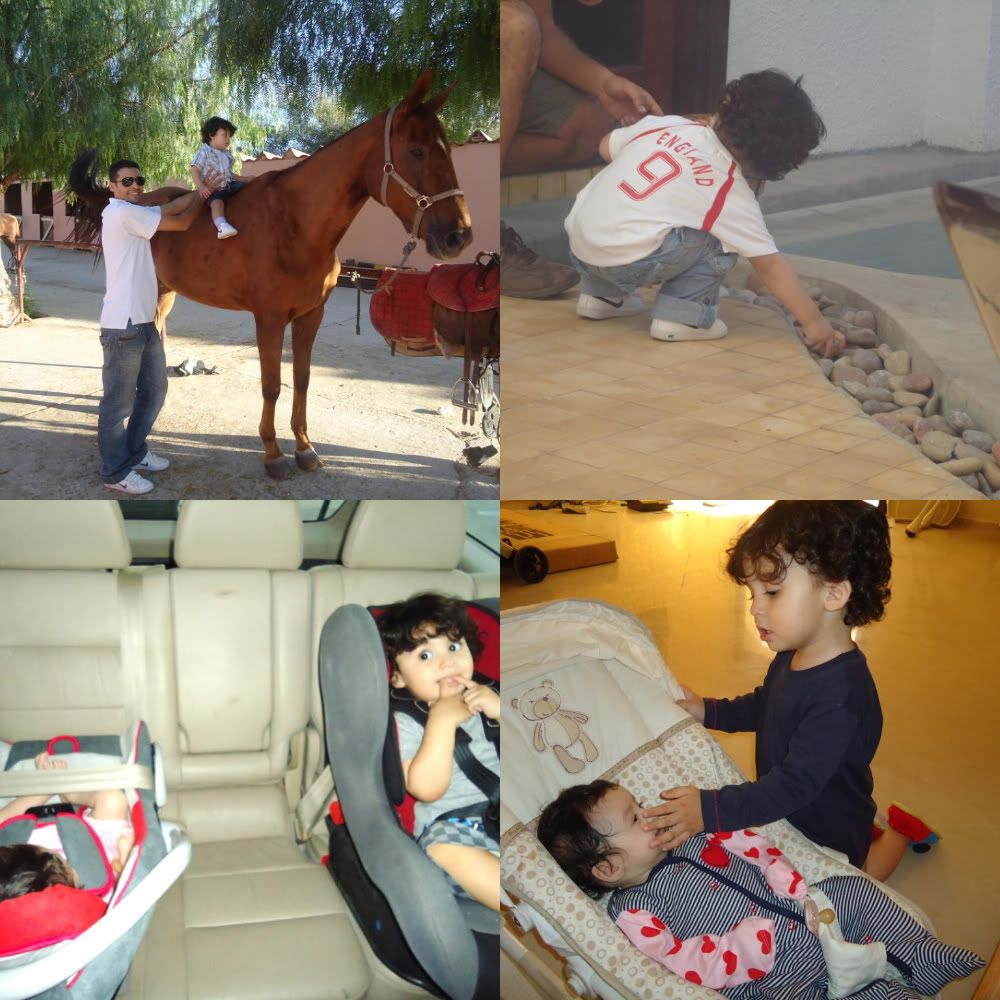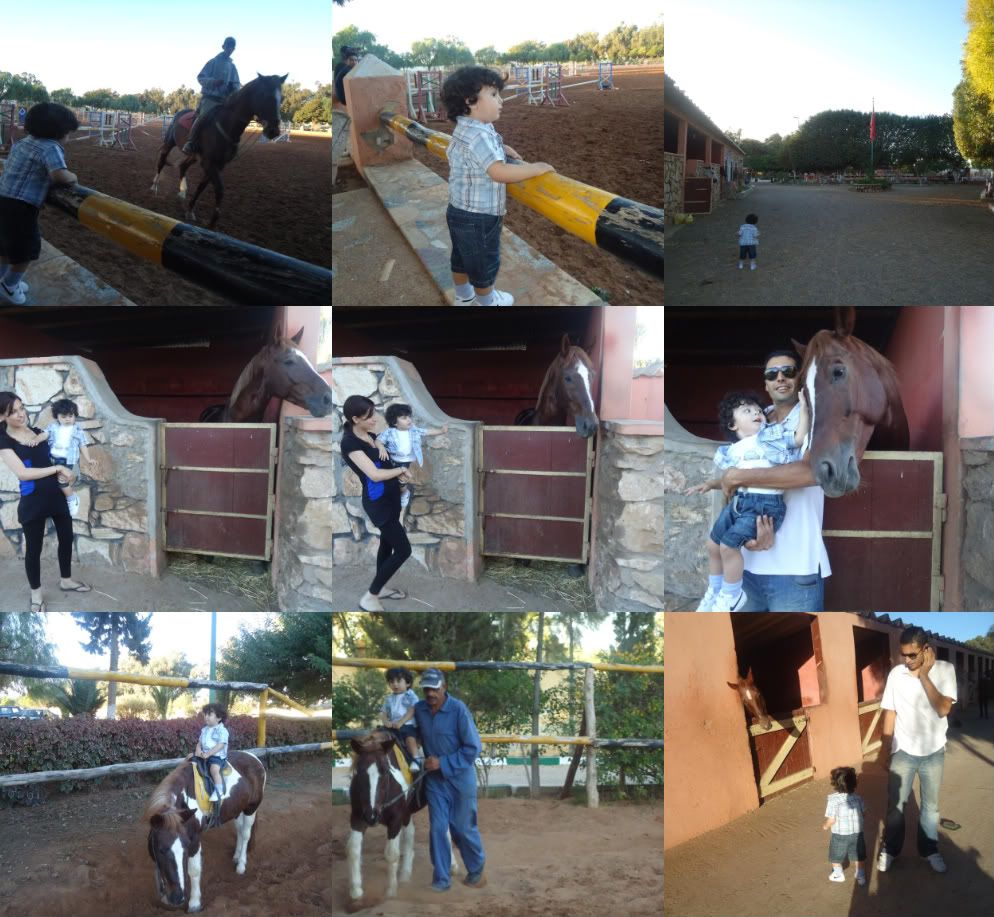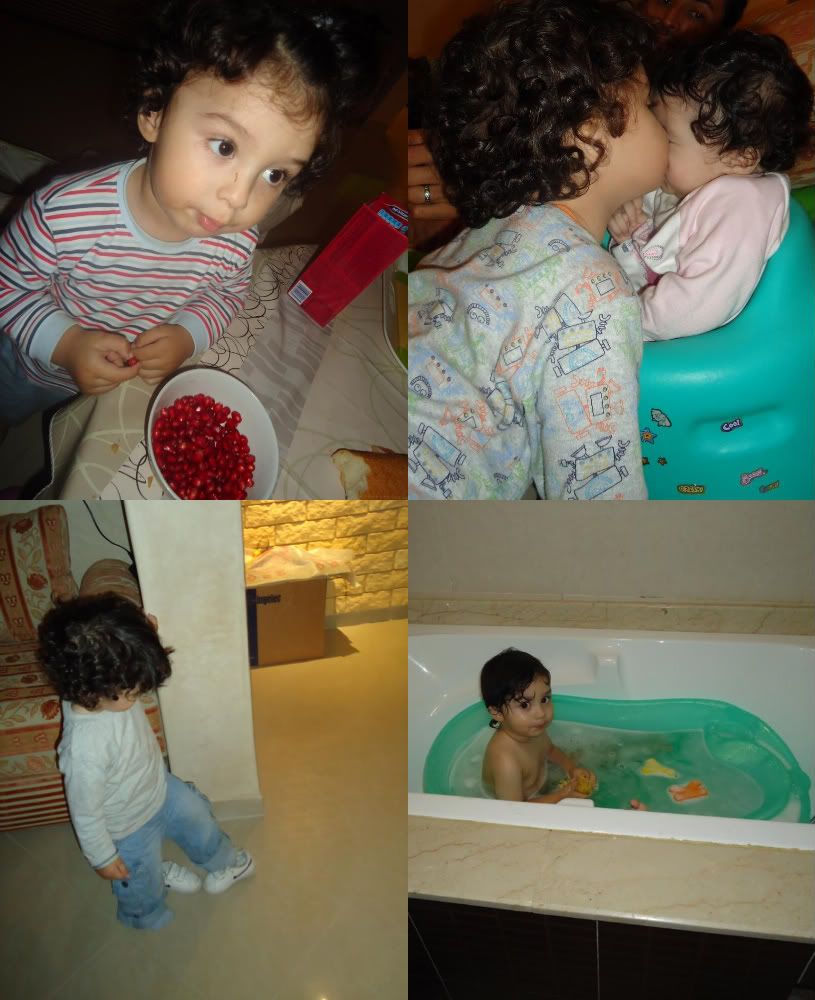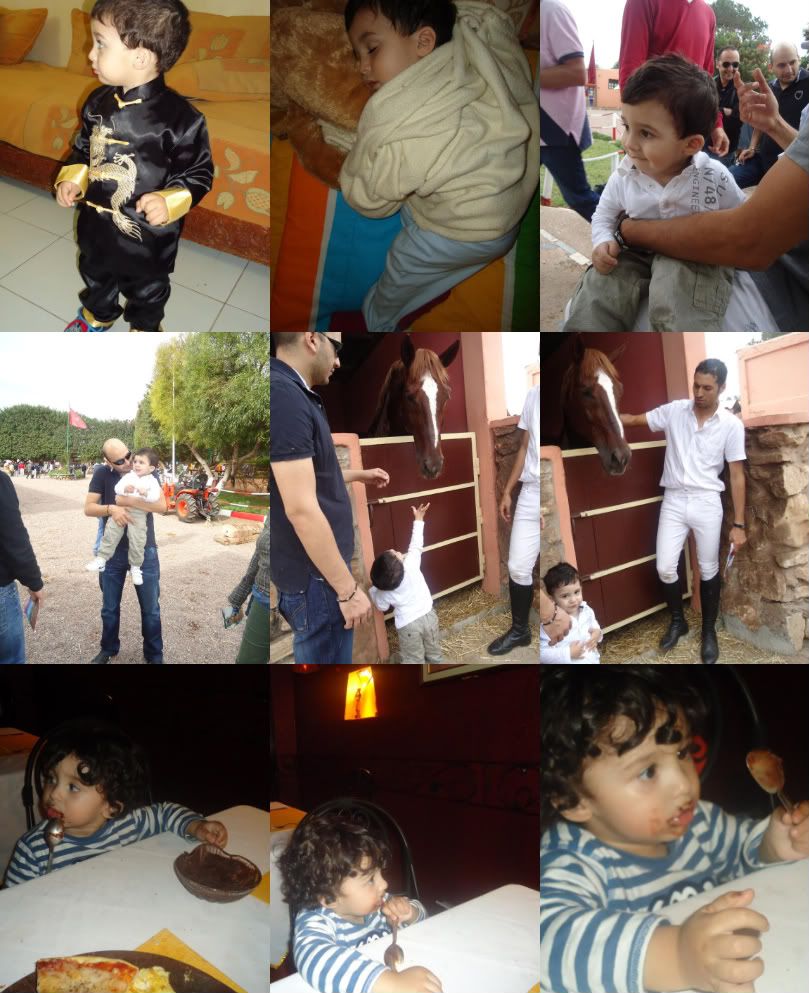 ---
5 Comments on R's 19 month old (lots of pics)katekins
- Saturday, 1 Jan
He is just too cute x
Baby Bliss
- Wednesday, 29 Dec
too bad I cant see the pics right now since im at work but he seems so adorable. Azia loves helping just like rayan. She also throws her diaper away as well as Giovanni's. She also speaks both english and spanish but I dont think talks as much as probably rayan but she sure gets her point across and I always know what she wants so I guess its ok I just have to keep working with her. As long as she understand everything i say I feel confident that she will be talking tons with no time. Is rayan a momma's boy or daddy's..Azia loves her daddy tons and tries calling him on my phone and then she tries giving Gio the phone ha ha (hilarious). AND Oh my Rayan is a big boy. He literally weighs like 8-9 pounds more than Azia. She still wears size 3 diapers. CRAZY. I love to see how they grow compared to each other since they are basically the same age. Azia just turned 20 months though just a few days ago.
nhowa9
- Wednesday, 29 Dec
awww i have always LOVED his curls.. he is so fricken adorable! haha and sounds like he is ridiculously smart... i would have a giggle if i heard him talking 3 languages all mixed together. It is a fabulous idea though. your doing a wonderful job as his mummy! xx
proudmommyof3♥
- Monday, 27 Dec
Awe, adorable photos! They grow so darn quickly don't they! Ehtan just turned 20 months old on Christmas & I can hardly believe it... we are starting to plan his 2nd Birthday for March already, ahhh bittersweet!
mll28
- Monday, 27 Dec
He is so ridiculously cute!!! I wish I spoke another language to teach my babies. He is very lucky!