Write a new blog
---
24-2-2011 - BIG BOWS for Maddie :(
My mood while writing this blog:
heartbroken
---
So I came across this through Mommy.2.Kaylee.and.Keira.
'A mommy to a 4 month old little diva who liked to wear big bows was burrying her daughter who died a couple days ago. She just stopped breathing at the baby sitters house. They don't know the cause of death yet, but probably SIDS'
http://kandjstaats.blogspot.com/

Warning her blog WILL bring you to tears. It's heartbreaking and I can't even begin to imagine how she is feeling... no I don't even want to try.
As I was reading I held Sirine tighter and tighter.
We don't have big bows so we made do with what we had.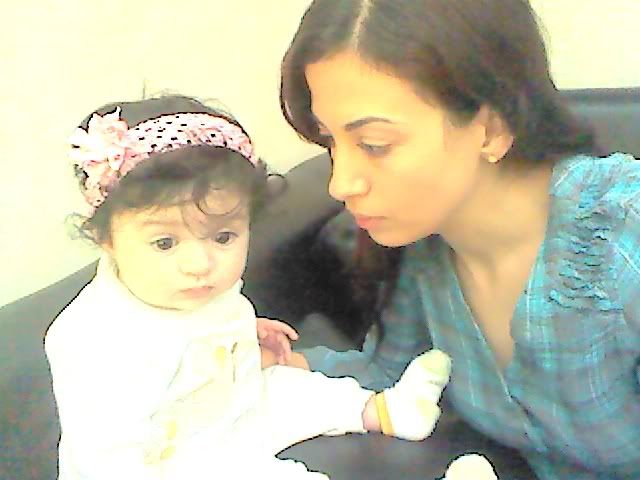 Sleep tight Maddie
---
8 Comments on BIG BOWS for Maddie :(Baby Bliss
- Saturday, 26 Feb
so I finally decided to read this and Im in tears. Literally just streaming down my face. My lil guy will be 4 months in just a few days and it kills me to even think this happened to Maddie. No parent should ever deal with this. One of my bestfriends' sister just lost her baby as well to SIDS. it happens and hits all too close to home.
andy21
- Friday, 25 Feb
I read her blog as well at it so sad! One day the mom is talking about how her baby girl is already 4 months old and then next, she tells her horrific story of the phone call she received from her husband at work. It happened so suddenly and unexpected. Scary! I don't have a baby girl to put big bows in her hair but I will be thinking of Maddie...
lgk616
- Friday, 25 Feb
I cannot even begin to imagine the anguish Kellie and James are feeling. The hurt I felt in my heart reading her blog was only a fraction of what they are feeling. My daughter sleeps with me, she's 2 years and 4 months old - I wouldn't have it any other way. After reading Kellie's blog - I need no explanation. RIP Madison. And I hope peace finds Kellie and James. xox
ryry ~pink~
- Friday, 25 Feb
that is the saddest thing i've ever read. the fact that you can see the before and after of it all shows just how suddenly your world can be flipped upside down.
proudmommyof3♥
- Thursday, 24 Feb
:( ...my heart goes out to her & her family!
ukbelle
- Thursday, 24 Feb
poor poor little maddison!, my heart goes out to her family, cant read on with tears in my eyes! such a sweetie with the angels now x
Baby Bliss
- Thursday, 24 Feb
I dont know if I want to read it..Im getting sad already. I cant imagine the pain. I have had several miscarriages and that pain is horrible but to actually go through the entire pregnancy, have your beautiful child and then lose them is a pain that would be unbarable. My heart goes out to the family. I cant imagine ever losing one of my hearts. They are my world and the air that I breath. If I lost one, I would go crazy.
baby1due3608
- Thursday, 24 Feb
I read it last night while i was holding my 5 month old son. I cried like a baby. I have a 3 year old daughter who nearly didn't make it and I made it a point to go up and tuck her in extra tight and give a few more kisses before bed. My heart breaks for that family.