Write a new blog
---
13-10-2009 - No more boobies!!!
My mood while writing this blog:
Happy
---
Its been a full week since the girlies have had any boob! I am SO proud of them, and myself! We BF for a year and a week!!
My dr wanted me done nursing by 20 weeks and I finished by 17! My little red-head refused a bottle up until recently, we slowly weaned, taking about 5 weeks in all, but its been wonderful! I haven't been engorged at all, no leaking, nada! Perfect! Now I get about 22 weeks with my boobies ALL TO MYSELF before I start sharing again!!! hahaha
Anyway, just had to share my news!!! For old time's sake, here is a pic of them at around 3 months having some of mommy's milk bar!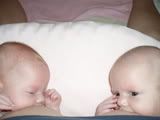 ---
7 Comments on No more boobies!!!lovemylove
- Tuesday, 24 Nov
Congratulations on the pregnancy!! I read ur post on a few months backs when you were going to get Married and you tried to wean the twins but could not. Well my question is, "how did you get pregnant breastfeeding?" I am trying to wean my 22 month and it is impossible, he is so attached I dont know how to even start and 2nd of all I still do not have a period. Did you get ur period back breastfeeding? Thanks so much and sorry for the long blog!!! lol
vinessalynn
- Wednesday, 14 Oct
I'm currently weaning my girls too...They still nurse for comfort and to sleep, but they are taking bottles so it won't be long!!!
amazintrace
- Wednesday, 14 Oct
Great picture. I think you did an awesome job BFing for as long as you did. It had to be tougher with two!
mals313
- Tuesday, 13 Oct
heheheh!!!! looooove the pic! congrats!
momof2hopfully3
- Tuesday, 13 Oct
aw congrates lol. i wish i had your problem but i never got to breast feel because Mena and Ayden where in the NICU and i dried up for some reason?? i tryed everything to keep my milk in pumping pills even smelling things with there sents on it : ( . oh well better luch with this one right !!!
3BeautifulBrothers
- Tuesday, 13 Oct
Love your pic, it reminds me of when I was feeding my boys, and you had your girls in the same position as I fed my boys to. Well done for going so long feeding your twins, I didn't get as far as you because the boys looked up at me one day as if to say "mummy what are you doing? Put it away we don't want that!" So that is what I did and they never did want me again, they where 5 1/2 months. So what you have done is verry impresive. Well done again!! Hope you are all well Take care Sarah.xxx
cluckandjen
- Tuesday, 13 Oct
Awww bless, lovin the pic! I'm still bf ,she has just turned 11 months and I plan on finishing at 12 by switching to full fat milk....just enjoying these last few weeks I will sure miss the closeness! xx