Write a new blog
---
18-11-2009 - Update on me, if your interested ;)
My mood while writing this blog:
happy
---
Its been awhile, so I thought I write a quick update on our lives. Anthony just turned 9 years old on the 15th... I just can't believe how quickly time flies, I know it sure doesn't feel like its been 9 years already! lol.
The girls are 13 months old now and doing fine! Breanne is weighing almost 21 lbs and Karissa is almsot 17lbs... they have sure came along way from the 4lb 6oz and 4lb babies that were just born last year!
I am 23 weeks now, we know we are having a boy but havent even started buying anything for him yet! I am starting to freak, but I am just SO busy with the girls and anthony, and i am very tired!!! Its hard work to chase them girlies all day long! lol I am going to give an attempt at selling some twin stuff on ebay and hopefully make a little moola to start getting our baby boy some clothes! We are SO very happy its a boy, but it would have been so much easier on the checkbook if it would have been a girl!! haha... but really, I think about the little things like the bouncer chairs, walker, and excer-saucer... they are ALL super pink!! One is flowers, the other is a "fairy princess" motiff (sp?) and the saucer is a pink tea party one! I really don't want my boy to have to play in that! lol
ok, well I better go fishnaggle something up for the girls to eat for breakfast.. but will share a pic of anthony from his b-day and a pic of the girls after their nap yesterday afternoon. I also put my belly slideshow up so new baby gets some time too! lol
Hope you all have a fabulous day!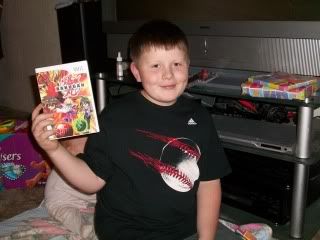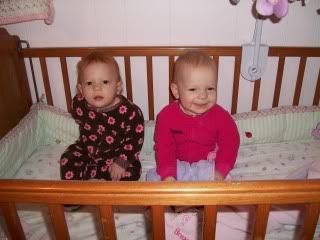 Create Your Own
---
4 Comments on Update on me, if your interested ;)mrsmacd
- Wednesday, 18 Nov
I completely understand you wanting to go 'all boy' for your son. I like my girls to be 100%girl and my boys to be 100% boy, fortunately most of my large items are appropriate for both. (Exersauser is jungle, highchairs are white, baby/toddler rocker chair is farm, mobile is four little animals, swing is white with blue hearts on one side and plaid on the other... yeah.) LOL. I did see that pink 'tea party' saucer and fell in love it is the CUTEST thing! lol. I've done a lot of my shopping on usedeverywhere.com sometimes moms just want to get rid of their stuff and will sell buckets for $15/$20, also if you're part of a church it might help to let the word out that you don't have any boy stuff. At our church we're always passing around bags of hand me downs, even I get tones of stuff that I pass on at no charge!
AngelicB1437
- Wednesday, 18 Nov
Glad things are going well for you! I know I'm not going to buy ANYTHING until after Christmas because I just don't have the time :) With some of those things you might be able to contact the manufacturer and see if they have a cover of some kind that lets you change the fabric without buying all new?? I know a friend of mine did that with her pink stroller when she bought all girl stuff and had a boy! Or if you are any good with needle and thread (I'm not but some are) you might be able to make your own cute covers? Just some suggestions that may help :) Good luck!!!
mals313
- Wednesday, 18 Nov
Hi! I feel ya on not getting started on buying stuff yet. I havent bought anything either!!! I am going to start on the nursery this weekend.....But my sister told me to wait until after the babyshower to start shopping??? your pics are soooo cute! xoxoxo
vinessalynn
- Wednesday, 18 Nov
I'm going through the same thing right now. I don't want the new little boy to live in a pink playland, but I don't know how I'm going to sell two pink swings, bumbo's, matching pink clothes, etc... I know my husband will say we don't need anything, but I want my baby boy to be a boy. Let me know if you're successful when it comes to selling the twin stuff. I was thinking about craigslist instead of ebay, but I don't care as long as it sells.