Write a new blog
---
25-1-2010 - 33 week belly
My mood while writing this blog:
happy
---
Can't believe how quickly this pregnancy is going... amazes me every day! I think its the NO rest I get chasing the twins around, and spending time with my 9 year old, and not to mention the hubby! (think he's the biggest baby of them all) My girls are 16 months old today and I just turned 33 weeks - crazy. The girls were actually born @ 33 wks, so its weird to know that this baby is as big (probably bigger) than they were when they were born.
He is def a strong boy and sure makes himself known. I have my next apt on Wed and looking forward to having the doc take a good look at me. I have been having really bad braxton hicks, and by the end of my days, I can hardly walk because of all the pressure down there... and oh lord, my hips! I am DEF feeling very pregnant and sometimes really wish I had someone to help me chase the twins around. I really don't think picking them up constantly all day long is good for me right now, but you do what you gotta go I guess!
Anyway, wanted to share a few pics of this hummer - hope all you ladies are doing wonderful and your babies are FANTABULOUS - and to those of you trying to conceive - baby dust to you all!!!
xoxo amanda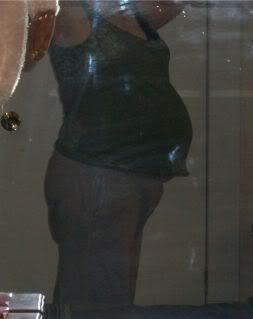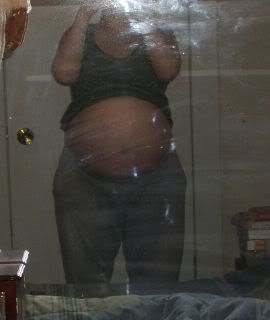 ---
11 Comments on 33 week bellyamazintrace
- Tuesday, 2 Feb
Yeah you look GREAT I love that belly!!! Private message me again about FB!!!
ChloeandTwinsmom
- Tuesday, 2 Feb
aww hun you look great :)
theomum
- Tuesday, 26 Jan
your looking well! it really is flying in, bit of me will be little sad when all this excitement is over as ill never be pregnant again. Hats off to you looking after yourself plus your wee family, im tired all the time looking after 1 mischeivous toddler x
mals313
- Tuesday, 26 Jan
lookin good manda! I too feel like my pregnancy has flown by. Eventhough its been a pretty rough road, Im going to miss being pregnant!!! I will miss feeling her in my tummy and just having that primal bond ya know? I cant wait for her to get here though, so I have mixed emotions!
mrsmacd
- Tuesday, 26 Jan
Wow! Yep, my belly looks like that too. Wow. We've morphed into hotels. Room service anyone? I hear you on the picking up the baby thing. My Mary-Emma wants me to pick her up constantly and I just look at her being ever so cute reaching up to me with her greedy hands and say, "Mommy can't." And she cries and my heart breaks, poor little duck. Sometimes I give in but it always hurts and I always have to stop.
clara16032010
- Tuesday, 26 Jan
You look great! Good luck with your remaining weeks - enjoy xx
TanyaT
- Monday, 25 Jan
Gee...whenever I feel like I don't know how I do it--I will just think of YOU!!!! You look wonderful and I admire you so much!!! I have my oldest who just turned 8 on Sat. and a 2 year old and my baby just turned 11 months and I am 38. I wish I were a little younger...I would want one more:) I will be 39 in April though...I wish you so much happiness and just know that you are soooo pretty!!!Best of luck to you and your beautiful family!!!
momof2hopfully3
- Monday, 25 Jan
i hear you i am sore to know end too. i also feel like i am chasing around twins all day lol ( they mine as well be : ) ...)
vinessalynn
- Monday, 25 Jan
I know what you mean. One of my twins has been real clingy lately and wants to be held all the time. I've been having a lot of contractions too...some are painful. When I had my u/s last Friday my cervix was only 2cm thick. I'm going to have my Dr. check me out next week too...I have a feeling I might have dilated already. Have you bought a lot of boy stuff? So far I haven't bought anything, but I know I need to. Have you decided what to do about a stroller? I've been thinking about you and I hope you are doing okay, Vinessa
lovingmytoddler
- Monday, 25 Jan
woo-hoo, and getting close. You look beautiful. Definitely feels like it was yesterday when you said you were preggo. Enjoy the rest of your pregnacy. Hugs...
cluckandjen
- Monday, 25 Jan
33 weeks..never!! Wow this is one quick pregnancy hun :) It only seems two minute ago when we chatted when you'd just found out! You're looking really well, hope you get plenty of rest when you can...I get tired with one and I'm not even pregnant. You are doing fantastic! x