Write a new blog
---
19-4-2010 - Odin is 6 weeks old today!
My mood while writing this blog:
happy
---
I can't believe how quickly the time has past! My littlest baby is 6 weeks old, my twins are 18 months, and my oldest is 9! Odin is a very good baby and is smiling and cooing away already! The twins are into everything on god's green earth and our first month with Odin has been very "interesting". Odin is EBF, however I have been pumping and giving him a bottle almost every other day so that he will eat from someone else when I am not around. Because of this though, I am getting NO sleep! Chasing the twins and the baby all day long is tiring (not to mention laundry, meals, and cleaning) and when I get the girls down for the night, thats when Odin thinks its time to be up. I could sure use a nap! haha
I hope all you ladies are doing well! I actually just got wee-man to sleep, so I think I am gonna try to catch a snooze before the girls wake up (wish me luck)
AND, of course, had to share a few pics ;o)
Odin 3 weeks old and SO strong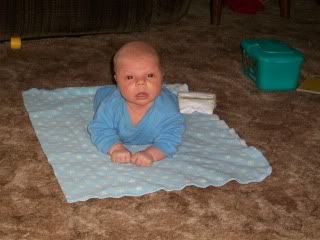 Odin and Anthony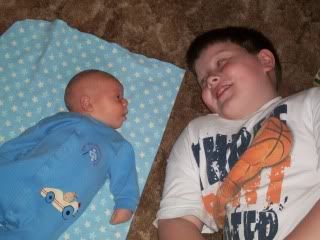 Odin 4 wks old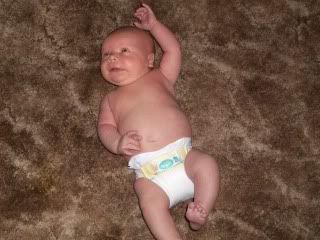 Breanne, Anthony, and Karissa (twins are 18 months)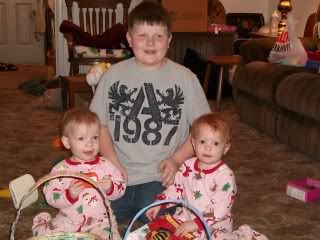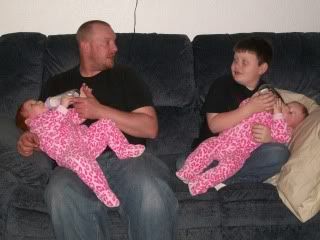 Odin 6 weeks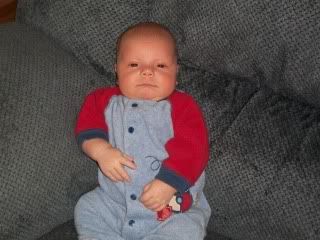 ---
7 Comments on Odin is 6 weeks old today!mandyf1231
- Thursday, 22 Apr
Your family is precious! You sound like you are doing well- even without sleep! Haha. Congratulations again on your new addition. He is adorable. BTW, I love the name Odin. :)
mrsmacd
- Wednesday, 21 Apr
I love how in the first pic he looks so grown up it could make you cry and then in the next one beside big brother he looks soooo tiny! I'm almost never on this site anymore. I'm sooooo tired when I'm awake and can't keep up to any of the mess... oh well. Your kids are gorgeous!
jekajoy
- Tuesday, 20 Apr
What a strong guy you have there! Wow! Vincent is 7 weeks old today :) He's a skinny little thing still but that's how our kiddos tend to be. We are still EBF too! I have a 20 month old (just one) and I can not imagine having twins! I start back at work tomorrow and work 12 hrs so back to reality I guess. Congrats, what a beautiful family!
BostonMom
- Tuesday, 20 Apr
Such cute family pics! Hope you'll have some time for a rest soon - use one of those bottle feedings to get a massage if you can!
ChloeandTwinsmom
- Monday, 19 Apr
lol can't believe odin is 6 weeks already time flys by :) cute piccys
priddy-mama
- Monday, 19 Apr
Thanks for the update! Love this pics and keep up the good work mama!
mals313
- Monday, 19 Apr
aw love the pics. u have a beautiful family!