Write a new blog
---
20-10-2011 - Positive OPK #1
My mood while writing this blog:
Ok
---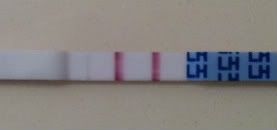 All I can say is WOW! My positive OPK was at 11am this morning. Sad news, we did not BD as planned last night because I was not certain it would be positive today and the best DH can do is 2-3 days in a row. Work makes him pretty tired. :( We did BD night before last and we'll get one in today (Friday and Saturday too even if it's too late by then). So the main day I am missing is the day before my positive which seems to be the best time to me. :/ Also, I am getting ovulation pains on my left side, which is my good side! I won't be too disappointed for a BFN.. for one, I am not expecting it to happen this soon, two.. I was unprepared this month, and three, I was not even expecting to try again anyway until January of next year so I am okay with that. Just seeing a positive OPK makes me overly excited and crazy!
---
7 Comments on Positive OPK #1sunflower-j
- Thursday, 20 Oct
Cool hun. If you bd tonight you could still catch it :-)
babygirl (pink)
- Thursday, 20 Oct
Am so happy for you mommy to abi. It's good to know that your body recovered quickly. Now let's pray to our heavenly father that you ovulate from the right tube. Good luck.
baby-beiler
- Thursday, 20 Oct
haha i thought that was a bfp! it is so hard to tell the differance because the tests look the same.... ANYWAYS. they say that sperm can live for up to five days in the uterus and we all know it only takes one so its probably a good sign :)
damnkat
- Thursday, 20 Oct
Yay!!!!! Get busy girl!!!! Wishing you a speedy sticky BFP!!!!
mommy.to.abi
- Thursday, 20 Oct
Yes, I am very grateful my body has gotten back on track so quickly, I honestly cannot complain.
lil.pigz
- Thursday, 20 Oct
Tada! Yay:-)..I get my positives in the morning too, versus the late afternoon/early evening "rules." Well no pressure then since this comes sooner than expected anyway, but is anything is to come out of this atleast the peace of mind that your body has recovered and is on track:-) Onward and forward♥
LiamParker and Avery* pink *
- Thursday, 20 Oct
Think Positive it only takes one little swimmer!!! Congrats ....