Write a new blog
---
02-9-2010 - So much excitment!
My mood while writing this blog:
Blessed!
---
Well, our first bit of exciting news; My sweet & handsome Ethan turned 17 months old last week!!!! WOW!
He is much too cute! My goodness does he have a lot to say these days! Most of it we haven't a clue as to what he is saying or telling us, but how cute he is when he says the things we can and can not understand! His vocabulary seems to be growing by the day though... recently we were driving in the car & I looked back at him & said "Ethan, I love you" ... and he said "I uv oo"... talk about melting Mommy's heart! We also recently went on a little shopping trip to target (Mommy loves Target, lol) but anyway Ethan totally fell in love with those ginormous bouncey balls... so of course we bought it for him & it is much too cute watching him throw it & giggle, my goodness it's bigger than he is! Ahhh he's so much fun, definitely keeping me as busy as ever though! He recently learned how to climb up on to things to get to the things he wants & INTO the things he shouldn't... my little stinker! Here's a few recent pictures of my little monkey =)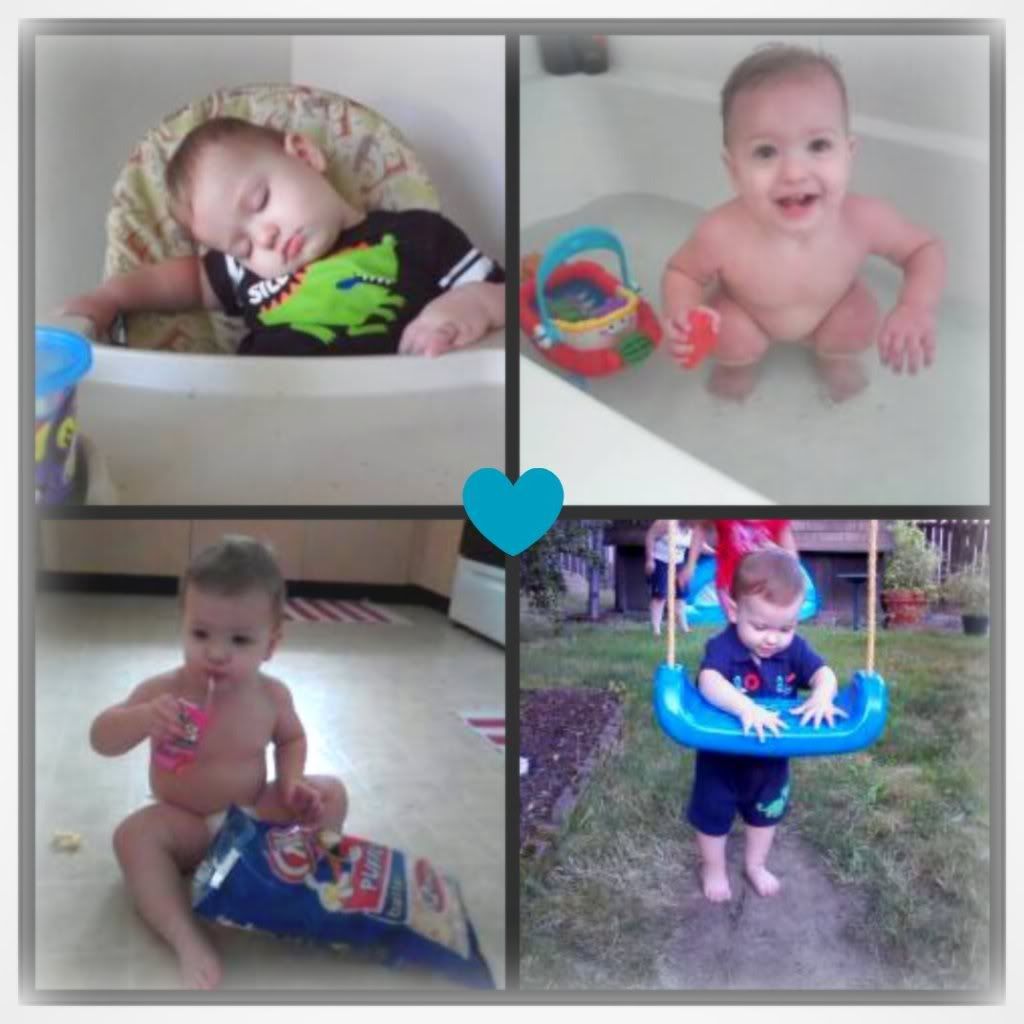 And our last but definitely not least bit of exciting news is that we just found out we got the new house we wanted!!! I'm so thrilled... and I know you ladies whom are friends with me on Facebook have already heard all about it & seen all the pictures, but here it goes again =)
We weren't initally planning on moving this year, we were thinking next summer would likely be our big move... we knew we needed a bigger house if we were going to have a bigger family... so a wonderful opportunity came our way & now we have an amazing 4 bedroom home that WE LOVE! I've of course posted some photos below.... we should be done with everything and be totally moved in by the begining of next month, if not by the end of this month but that might be wishful thinking on my part, lol! I can't wait... moving is never fun but sooo worth it in this case!
So on that note, I better get going and try to possibly pack another box or two before Ethan wakes up from his nap (which should be any minute now) and before Makayla gets homes from school... oh speaking of, Kayla started back to school yesterday, 4th grade this year, ahhh... why must they grow so fast?!?!
Anyway, I will be busy this month with our move but I will definitely try to keep in touch... I hope everyone is doing wonderful! Thanks for reading... ~smiles~ D.
---
3 Comments on So much excitment!MrsMommy2
- Saturday, 4 Sep
Hope your preggers!! I know all the signs can drive you crazy if you look into them to much! However, I will say I had implantation bleeding with O'ey and didn't with Wyatt It was on 9dpo lol I just checked back at my old fertility friend calander. So fingers crossed! And Congrats on the new house! We too need to upgrade. Hey you should add me on facebook I have TONS of pictures and videos of the boys on there and I am on there a lot more than I am on here. I'll PM you my name.
nataliec
- Saturday, 4 Sep
Aww you have such a cute baby boy! :) House is beautiful. Hope you find out your preggo soon! Hugs
mommy of lucas08
- Friday, 3 Sep
Congrats on everything!! Good luck on trying to conceive! :)