Write a new blog
---
08-2-2009 - combat crawling
My mood while writing this blog:
pretty good
---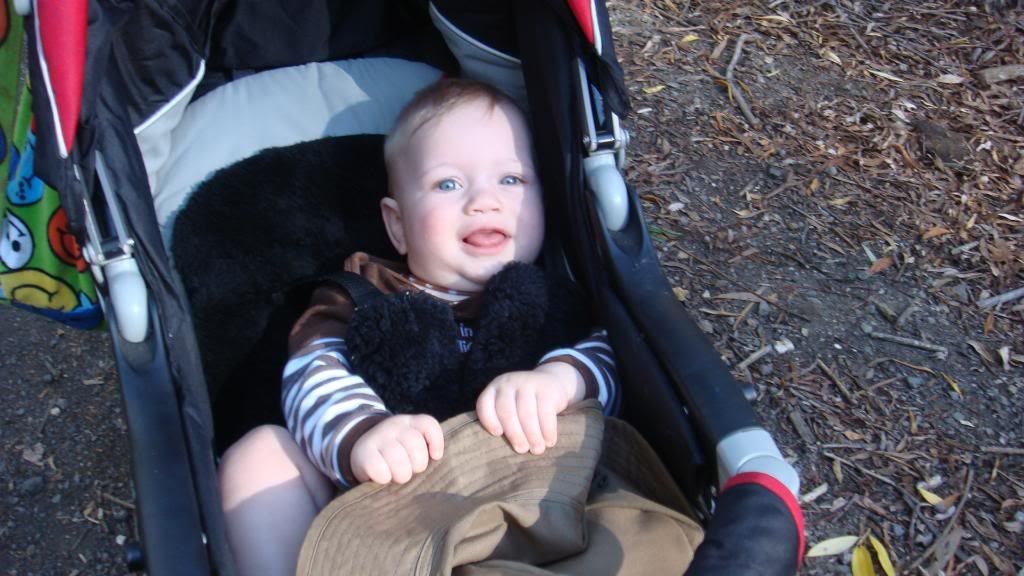 My 20 week old baby has decided to combat crawl which has put us all in a state of adjustment. No longer can I put him on the floor and expect him in to be in the same place a few minutes later. When I turn around he has moved! Now we have to keep an eye out for things he can get into. I am very proud of his efforts anyway. He gets frustrated though sometimes as he is scooting around his face often scrapes the floor and he cries. He is still grabbing at everything in sight and grabs any plate or cup you have in your hand when you hold him. He is still sleeping well still, I am sure he will be more tired with all the energy he is putting into crawling.
WE had an extemely hot day on the weekend. It was more than 46 degrees (over 115 degrees Farenheit) and there were bushfires everywhere in Victoria. Over 100 people died, so everyone here is a little shell shocked about the news coming through. I donated 2 big bags of baby clothes and 2 big bags of girl's clothes too and I hope that it helps someone in need. Houses and towns were wiped out. it is the worst disaster this country has ever had.
Anway..... not good but I can look at my baby and be grateful that I have him and we weren't in a dangerous area. Three of my friends had their baby this week so congrats! I hope you are all doing well and look forward to hearing about life with the newborns!
---
2 Comments on combat crawlingmaha55
- Monday, 9 Feb
Hi Lisa
Sorry we missed one another..a mad 5 days!!! but was great to talk with you..stay in touch..
I couldnt believe Saturdays temp!!!!!! Of all the weeks we came to melbourne..and as you know I was at my sisters in Panton Hill in the avo.....10km ish from Kinglake..incredible..they were safe but a good friend lost her house and everything ...just still cant beleive we were so close to it all..don got some footage of smoke, wind etc...could see alot from my sisters house (which is in amongst the dry gum trees)....back in byron now..aminah seems to be all grown up now....
take care
love maha xx
tysl
- Sunday, 8 Feb
I heard what happen to Australia...hope that God will bless rain there ya! so happy to hear that your baby is very active now...