Write a new blog
---
07-10-2010 - 20 weeks scan, it\'s a.....
My mood while writing this blog:
ecstatic!
---
Hey Ladies, hope your all well.....it's about time for an update haven't had time before been so busy and tired, iv'e been trying to keep up with all your updates etc.....sorry if i don't get back to you all sometimes, but i do try! x
Anyway...........it's a GIRL!!!!!!! we are absolutely over the moon! especially my daughter Elisha, she always wanted a sister, she adores her brother Danyal, but really wanted a sister 2, so one of each for her!
the scan went great everything so far looks brilliant! nice and healthy! Just gotta think of names for her now! so pleased to stop calling her 'IT'! and also shop for a whole new wardrobe for her! i kept dan's clothes but only the neutral ones will be useable!
all is great with Danyal he is 16 months now and is such a joy! he is walking and running around everywhere now there's no stopping him! he has been walking for 2 months now!! and has 10 teeth and more coming! He is so beautiful, i cannot stop cuddling him and kissing him sometimes! Everyone loves him soo much he so spoilt by everyone! i think he will be great with the new baby, he is around my 2 sister in laws baby girls 1 is 6 months old the other is 3 months old and he's soo gentle and calm around them, not sure if he will be jealous yet, but think he might as he is so clingy sometimes to me! but we shall see i'll be fine.
Anyway that's all for now i think lots of love to you all! speak soon take care! steph, danyal and lil lady bump! xxxx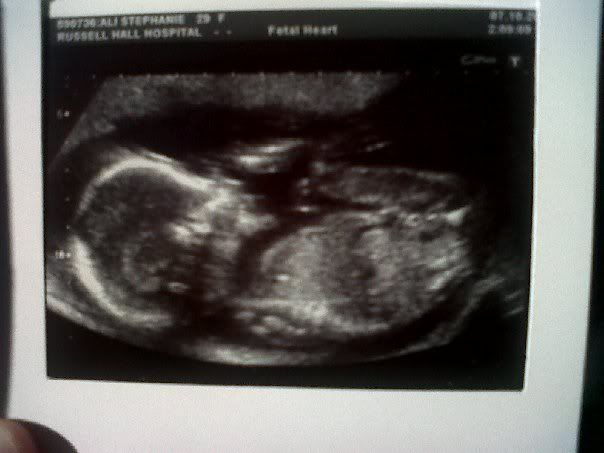 here's another one of her blowing bubbles! lips all puckered up ahhh!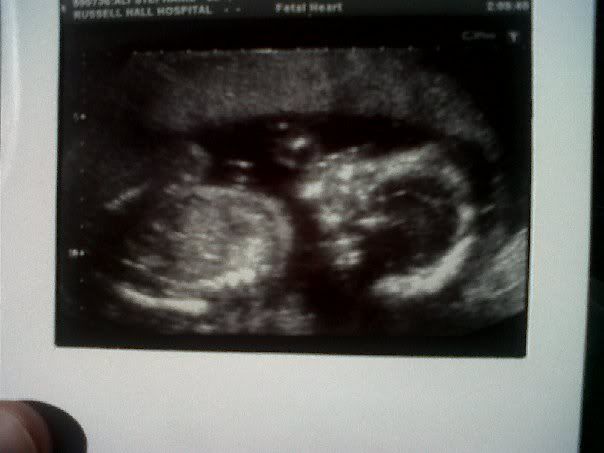 ---
14 Comments on 20 weeks scan, it\'s a.....RainbowRach
- Monday, 11 Oct
I am so happy for you Steph. Perfect!!! x x
proudmommyof3♥
- Saturday, 9 Oct
YAY... how exciting!!!! I'm so thrilled for you! Many Congrats to you & yours hun! :)
Mummy-to-two-girls
- Saturday, 9 Oct
Gorgeous pictures hun, Congratulations, team pink. glad all is well with your little girl,and she is healthy. take care x x
andriette and christians mummy liz
- Friday, 8 Oct
Awww soo happy dol,congrats again,again she is gonna be a stunner heehee!Did u see my belly pics?Omw its crazy i feel sooo big,everyone is saying its a boy no one not even my gp has said its a girl and he said girl with andriette so he was right.We hope its a boy one of each but if its another girl were all good no worries.Having my next scan 1 november sooo hoping s/he wont lie with the lil legs all wrapped up again.This will be my 5th scan ooo were lucky ey hehe.xxx
Donna (Blue)
- Friday, 8 Oct
i know ive already said congratz but i had to come here and say it too, im truly thrilled for you. No luck my end yet =[
Pocahontas
- Friday, 8 Oct
Congratulations with your little girl. So pleased everything is perfect with her. - L
babybump82
- Friday, 8 Oct
Ah congratulations, so happy for you! Did you have any inkling baby was a girl?! Elisha and Danyal are going to make great big brothers and sisters! Let the shopping begin! xxx
the orlandos
- Thursday, 7 Oct
Congrats Mumma! Xx
emauk
- Thursday, 7 Oct
Hey Hun..I just logged on today to see how you are and how the scan went..YEY!!!!!..a little girl..you are going to have so much fun dressing her up....Congrats..I cannot wait to see her when she is born..she is going to be beautiful..just like her brother and sister and mummy..☺..ohhh Names..Have you any ideas?..I wanted to call Ella, Marley..but the film came out twith the labrador the same time as she was due..=(..but if I ever have another girl..she is getting called Marley for sure..take care hun..so pleased for you guys..bet hubby is over the moon,..xxxxx
katekins
- Thursday, 7 Oct
Yay hunni! So pleased for you. I know im bias but having a girl is amazing! There are so many nice clothes for them now and they are just ace little mini mes lol! Im sure if i had a boy id think the world of him too though. I wouldnt be shopping overbboard just yet though as they say a girl is never 100% until shes here. That little winkle could always be hiding, unless theyve seen the nether regions in detail of course! Mind you like you say you have danny boys clothes to fall back on if that is the case. Ooooh im so excited for you its like your doing my journey but a year on. Dates are similar and now its a girl too. Maybe it means you'll have a really good labour too like i did?? Hope so eh hun. So your half way there. Nearly a mum of 3 and a family of 5 woohooo. Congrats on the news hun x x
♥Heather♥
- Thursday, 7 Oct
So over the moon for you!!! The perfect family! I guessed right! lol cant wait to see how beautiful she is going to be.
stacky
- Thursday, 7 Oct
OH congrats! This is great news:) yay!!!!!!
SkyeandNiallsMummy
- Thursday, 7 Oct
congratulations xxx
sam33
- Thursday, 7 Oct
Congratulations - that will be great to have another little girl and glad everything looks good on the scan too x